Dr. Molly Miller: Four of My Favorite Contemporary Women Guitarists
by Dr. Molly Miller
Last year I wrote an article for Women's History Month that highlighted some of the pioneering women of the guitar: Memphis Minnie, Maybelle Carter, and Sister Rosetta Tharpe. Those women were innovators, playing historic roles in the development of guitar and the evolution of their respective genres. This all took place during the first half of the 20th century.
Today, vital members of the guitar community who also happen to be women continue to push the envelope with their unique techniques and sounds. And most importantly, just like Minnie, Maybelle, and Rosetta, they make you feel things. Here are four of my favorites.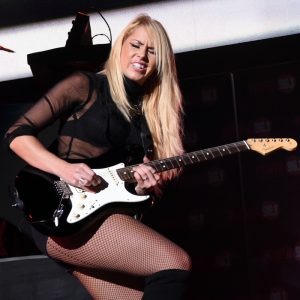 Arianna Powell
Pennsylvania native Arianna Powell has a magical touch on the guitar. I first became familiar with her as a stellar pop guitarist supporting big-name artists and I was struck by her guitar playing in that context. To put it lightly, she can shred. You may have seen her on TV playing jaw-dropping solos with Olivia Rodrigo or Black Eyed Peas. Or maybe you saw her at a stadium with the Jonas Brothers or Halsey, putting her personal touch on guitar parts. Arianna does not just play what is on the record, she composes guitar parts that add color, texture, and melody, like a great arranger would do. Arianna is also a beast of tone, rocking big driven lead sounds, heavenly reverbs, and interesting modulations, while putting her own spin on them all. And all of these things that I appreciate so much about her playing when she is supporting an artist really come alive when I hear her solo guitar arrangements.
Arianna is one of my favorite solo guitar players because of her incredibly inventive, virtuosic, and musical arrangements. You can hear her influences from greats like Johnny Smith and Joe Pass, but she blends them with classical contrapuntal movements and harmony, pop sensibilities, and R&B flourishes to create her own sound. Some of her more virtuosic playing is made possible because of her atypical right-hand technique: she rests her pinky on the guitar pickup and almost brushes the strings with her thumb and first, second, and third fingers. I've never seen it before. This unconventional technique allows her to seamlessly go between dashing arpeggiated lines and sweet chordal melodies, all while maintaining a big round sound. You can hear it on her arrangements of traditional songs like "Virginia Is for Lovers (Shenandoah)" and Brian Wilson's classic "God Only Knows." Arianna's ability to draw from so many styles and techniques in her arrangements makes them highly compelling and unlike anyone else's. She will be releasing a record of solo guitar music in July.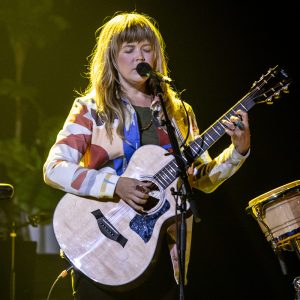 Emily Elbert
Emily Elbert is the queen of the pocket. Her groove is solid, her voice is mesmerizing, her melodies are soothing, and her songs are powerful. Emily is a woman who can do so much, so well. Her talents have led to a wide range of gigs, playing for artists such as Sara Bareilles, Jacob Collier, Lorde, and Leon Bridges. Emily is also quite accomplished as an artist herself. She finished her first record Bright Side (2006) while still in high school back in her home town Dallas, Texas. Since then, she has released four more albums filled with groovy guitars and heartfelt lyrics.
Emily's songs have sentiments of love, existential thoughts, and hopes for a better world. She poetically demands that we live in a place without corrupt politics and with more respect for both Mother Earth and humanity. You can hear the Civil Rights lineage that she is holding the torch for and is pushing forward, drawing inspiration from Nina Simone, Marvin Gaye, and Joan Baez. Emily walks the walk: all proceeds from her composition, "True Power," a protest song about Donald Trump, benefited the American Civil Liberties Union. Her last record Woven Together (2022) is filled with thoughtful and introspective poetry that makes you feel less alone in your fears. She addresses that there are no guarantees in love on "Inside Your Heart" and the heaviness of loneliness on "Not Alone." While I get lost in Emily's lyrics, her guitar playing is deep and something to be noted.
Emily delicately weaves her vocal lines and guitar parts together. Her playing is always perfectly in the pocket, pushing the music forward with sweetly arpeggiated lines, pretty melodies, and soulful licks. Emily jumps between electric and acoustic, but her strong voice on the guitar is consistent throughout. You can hear an eclectic mix of genres coming together—jazzy harmonies, folksy elements, and soul grooves—and there is a soothing quality that is timeless, tying together the past with the present, while looking to the future. Keep an ear out for new solo releases by Emily. You can also catch her on tour with Jacob Collier.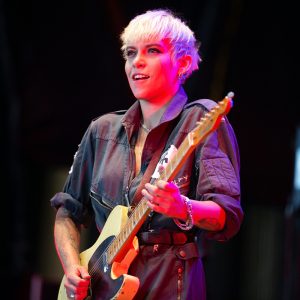 Carmen Vandenberg
Carmen Vandenberg oozes with cool. She will make you turn your head with her wailing blues and rock licks. Her playing stems from the greats like B.B. King, Stevie Ray Vaughn, and Jimi Hendrix—but she fuses those influences with modern rock and funk guitar styles to create the Carmen Vandenberg sound.
Carmen moved from Europe to LA to pursue music with her band Bones UK—a good decision as they were nominated for the "Best Rock Performance" Grammy Award in 2019. Seeing her perform is something else. Her stage presence combined with complete badassery on her instrument makes it hard not to stare. I had a chance to see her play with Bones UK a few years ago and they played "Girls Can't Play Guitar," which is filled with Carmen's soulful and heavy lines. Each time her bandmate Rosie Bones sings the hook "girls can't play guitar," Carmen responds with dripping rock leads that prove quite the opposite. I laughed and thrilled with joy and inspiration every time. I've had the pleasure of sharing the stage with Carmen on numerous occasions. She sings with her instrument in a way that elevates every performance and her energy pushes everyone to the next level.
Outside of Bones UK, Carmen has enjoyed many impressive pairings. She caught the attention of Jeff Beck and helped cowrite his 2016 record Loud Hailer. She then got to tour and record with Jeff, playing side-by-side onstage with him for many years. She also toured and recorded with Kate Nash, Cheryl Lloyd, and Smashing Pumpkins. Carmen's sound has received attention from many, including Blackstar Amplification, who created the CV30 in collaboration with her.
Carmen is a powerhouse that uplifts any stage or record she graces. Stay tuned for a new record from Bones UK, as well as some long-awaited solo releases.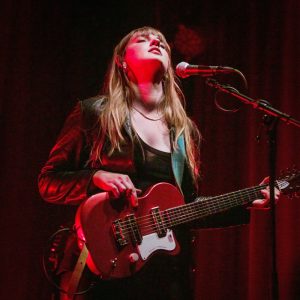 Madison Cunningham
You can't talk about new guitarists without bringing up singer-songwriter and guitar hero Madison Cunningham. Madison's music is spellbinding. Her honest and angelic voice draws you in, her guitar playing stuns you, and her songs melt you. This beast of a musician has developed her own sound, with guitar as its centerpiece, and performing is clearly a natural state for her.
This Southern California native grew up writing songs on the guitar and singing in church. Her album Revealer (2022) won "Best Folk Album" at the Grammy's this year, a well-deserved feat. Madison's music is grounded in folk, with heavy tendencies towards rock'n'roll and roots, but she also incorporates unexpected harmonic movements more typically associated with jazz and classical music.
Madison's guitar playing is deep, with her intense, extremely catchy, and unique lines providing the driving force behind many of her songs. There is a toughness in her playing—a total conviction and clarity that comes through when she performs her intricate guitar parts. And she can also seamlessly shift stylistic gears, for example one moment playing chords reminiscent of Joni Mitchell, then suddenly jumping to a Queen-like melodic line.
Madison typically plays electric guitar in alternate tunings, which is a part of her distinctive sound. Her chord voicings are atypical—incorporating beautiful extensions and unusual intervals—some with a big low end. Her rocking yet melodic lead lines are also refreshing, eschewing clichéd pentatonic licks while featuring lots of chromaticism and open strings, and she often echoes those lines with her voice. Madison's guitar tone is distinct, as well, rocking effects such as overdrives, modulations, and vibratos, including her new JHS Artificial Blonde signature vibrato pedal.
Madison most often performs with a band of two or three musicians, but she also rocks hard as a solo performer, commanding the stage. Like her guitar playing, her songs are thoughtful, compelling, and exceptional.
Do yourself a favor and dig into these four guitarists. Memphis Minnie, Maybelle Carter, and Sister Rosetta Tharpe helped establish new genres and reimagine the guitar in the last century—and Arianna, Emily, Carmen, and Madison are doing that today.
Read Dr. Molly Miller: Pioneering Women of the Guitar
Arianna Powell photo: Chris McKay, Getty Images
Emily Elbert photo: Harmony Gerber, Getty Images
Carmen Vandenberg photo: Mat Hayward, Getty Images
Madison Cunningham photo: Frank Hoensch, Getty Images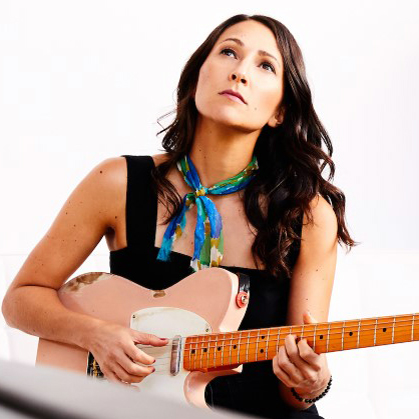 Dr. Molly Miller records and tours with artists such as Jason Mraz and Black Eyed Peas in addition to leading the Molly Miller Trio. She is also a professor at USC Thornton School of Music.
---
Related posts
---



Madison most often performs with a band of two or three musicians, but she also rocks hard as a solo performer, commanding the stage. Like her guitar playing, her songs are thoughtful, compelling, and exceptional.

April 5th, 2023 at 9:02 am

Leave a Reply
You must be logged in to post a comment.
---
By submitting your details you are giving Yamaha Guitar Group informed consent to send you a video series on the Line 6 HX Stomp. We will only send you relevant information. We will never sell your information to any third parties. You can, of course, unsubscribe at any time. View our full privacy policy