Julien Baker – Indie Rock's Reverb Queen Shimmers with HX Effects
by James Volpe Rotondi
Perhaps not since the days of Jeff Buckley and the Cocteau Twins have shimmering, cinematic reverbs and delays been such an intrinsic part of an indie rock artist's guitar palette as they are for 26-year-old phenom Julien Baker. Like Buckley, Baker favors full, clean, Silverface-style Telecaster tones, supporting delicate repeating triad figures and loops with just a hint of overdrive and plenty of tasteful, spacious 'verb, along with cool reverse and panning delays.
Baker's three albums—including her debut record Sprained Ankles, 2017's Turn Out the Lights, and last year's Little Oblivions—also display the vulnerable and hypnotic songcraft of a soul struggling, a quiet but often fierce exploration into the tenderest of emotions. And like Buckley, her lilting voice scrapes at the sky, evoking those vaguely jazz gothic shades of Bjork, Nico, Stina Nordenstam, Hope Sandoval, and other smart chanteuses whose breathy timbres with that touch of 'verb seem to strike at the heart.
Which is to say, she's probably not the sort of artist that you would generally expect to be a full-on gear nerd, to say the least. But from her early days with a Line 6 DL4 Delay Modeler to her current fascination with the HX Effects and its vast modeling prowess, Baker, as it turns out, is a proper tone aficionado, who favors boutique outboard pedals from the likes of Chase Bliss and Empress in conjunction with the six blocks available to her in HX Effects, and with the "intuitive" interface of HX Edit.
From the Transistor Tape delay to the Plateaux reverb, she's got a special knack for the atmospheric end of signal processing—and the good taste not to overuse it. What's more, her entire band is in on the act. Guitarist Mariah Schneider uses a Helix Rack for her guitar sounds and dials in an HX Stomp for unusual vocal effects. That's not all: bass player Calvin Lauber uses HX Effects as well. In his case, a big part of the job is using the MIDI function in HX Effects as a controller, triggering any backing tracks, and to send program messages to the band's onstage lighting rig. That's a lot of Helix/HX in the house.
"Playing live is where the Line 6 gear is so important to us," says Baker. "For me, personally, the most important thing is for it to sound good and be intuitive. At the risk of sounding like I'm kissing Line 6's ass [laughs], I really do love working with HX Effects."
Your songs have a very confessional quality, but they also have a level of artistry that keeps them from feeling like the usual "poor me" school of songwriting.
It's funny you say that. I took a literary theory class in college, and I recall my professor explaining to us that, while everybody quotes Wordsworth and particularly his famous quote, "Poetry is the spontaneous overflow of powerful feelings," they usually leave out the rest of the quote. The whole quote is: "Poetry is the spontaneous overflow of powerful feelings; it takes its origin from emotion recollected in tranquility." That's the part that we songwriters often forget.
Someone once put that idea to me as, "We write not from our wounds, but from our scars."
Exactly. When you go to that vulnerable place, and plumb the depths of your own emotion, that's the first part of the process, right? And it's so important. It's like capturing lightning in a bottle to pull out the raw truth from yourself and lay it on the ground. But you also have to sift through it all—get out your little sieve and try to extract the gold nuggets, and look for the runes in it, so you can understand what it all means, and then piece it together in an intelligible way. Songwriting is emotion, sure, but it is also very much a craft.
At the beginning of my career—on Sprained Ankle, for instance—I think I was almost too vulnerable; it was just a stream-of-consciousness depiction of exactly what was going on inside my heart and in my life at that moment. But since I've been lucky enough to do music as my primary income, and have been writing for other projects as well as my own stuff, I've tried to pay more attention to the craft. It's a lot of fun for me to knock around all the Scrabble tiles of words in my head and try to come up with something that's as concise and clear as it is, hopefully, beautiful and also honest.
What is your background with effects in general, and Line 6 gear in particular?
The DL4 Delay Modeler, the ultimate utilitarian staple pedal, was the second pedal I ever bought. And, of course, I was using it with no taste, because I was 16 years old, only just starting to play gigs with bands, and trying to find a band to be in full-time. I probably started using a ton of reverb and delay as a security blanket, because I was fumbling the notes a lot back then. In my first band, we did some fun stuff with tap-tempo delays and even syncopated reverse delays, but it was more like a traditional rock band setting, before I started doing the solo shows with looping.

At that time I was mostly using delay to create novel sounds—not so much to enhance an existing tone or part, but just to create some crazy feedback or something fun and weird. But when I got to college, I had my Line 6 DL4 and my Strymon blueSky with me, and those were my only companions in my dorm room [laughs]. I discovered that the DL4 has this great looping function, and I started messing around with that. That's how I wrote a bunch of the songs on my first album, Sprained Ankle: just playing in my dorm room or my parents' living room and creating loops, and then building larger textures over them. Y'know, I'd start with something simple, and then add higher and lower parts, and create arrangements by waiting to bring in the bass notes.
I've watched some of your live videos where you're doing a lot of looping and they are fantastic.
Well, thanks, but Lord knows what I could have been making if I would have had something like Ableton Live or been able to understand what that even was! I was doing it in the most busted way. From the DL4, I'd later get the little Boss RC-3 Loop Station, and, using the stereo function, I'd use two Morley George Lynch Triplers for sending my signal to different amps; one of the Triplers was basically functioning as a kill switch, so I could drop parts in and out to create arrangements.
"I don't want it to be too distracting, like, 'Hey, look at me, I'm a shimmer reverb!'" —Julien Baker
It's not like I was doing it the "right way." I just had all this crazy hardware, and it required that I count everything in my head. I'd literally have to count a measure of a part that I couldn't actually hear so that I would come back in on the right note! It was kind of a disaster, and it's very difficult for me to explain without physically being in front of you. But the takeaway is that with the Line 6 DL4, a Boss RC-3, and the Strymon blueSky, that's pretty much exactly how I made most of my sounds for the first two records that I recorded.
More recently, you started using the Line 6 HX Effects. How has that changed your workflow?
I've got to be honest—I was never really a multi-effects unit person. I was always suspicious of multi-effects units because there were all these prog-metal/djent guys in my life that played through a digital rack unit. They had either a Kemper Profiler Rack or a Fractal Axe-FX. To me, that just looked like far too steep of a learning curve. But when I started using this HX Effects pedal, and figured out how to pull up the HX Edit software on my computer, it was just so intuitive, and the patches sounded really good. Like they actually sounded good!
What I mean is that they sound good without you having to dive too deeply into them, without having to get down to the minutiae of how the impulse responses emulate the speaker vibrating, and where the mics are placed in the amp sounds that you're creating. Now, I know that you can do all that with Helix, because Mariah Schneider, who plays guitar in my band, has the Helix Rack unit and the big foot controller, and she designs these very complex tone recipes in the HX Edit software. But for me there's an ease about working with the HX Effects—I can quickly summon up six really versatile pedals, as if I was using a traditional board, and then change the parameters around to be exactly what I want.
What are some of your go-to blocks and effects in HX Effects?
Two things you'll hear a lot in my sound are the Plateaux and the Searchlights reverbs. Generally, I put the decay time way up and bring the mix way down, especially for something where I need a pad. I don't want it to be too distracting, like, "Hey, look at me, I'm a shimmer reverb!" The idea is just to create a little bit of atmosphere, to make a given part a little more buoyant in terms of how it sits with the existing guitar parts.
For overdrive, I tend to use the Minotaur a lot—in fact, I'd say it's on almost every patch I use, for that nice medium overdrive, akin to a Klon Centaur. That's definitely my go-to drive. And the Transistor Tape delay is another one that's on virtually every patch for every song in our set. It's just a great delay. Full stop.
I use the 10 Band Graphic EQ a bunch. It's especially useful with my Fender Acoustasonic guitar. This is obviously something that I work out with my front-of-house guy, but if we're in a room and all of a sudden there's that one little annoying frequency in my guitar sound, I can just pull up the 10 Band Graphic EQ and notch that out in five seconds. And that small tweak changes the entire character of my guitar. It's the same with being able to quickly add some Red Squeeze or Deluxe Comp compressor on the fly, or turn on the Noise Gate. These are just really practical options to have on hand in a live setting.
But there's another reason HX Effects is such a great live tool for me. I mean, a lot of my favorite pedals are traditional analog stompboxes, and those are great for experimenting with in the studio. Y'know—what crazy sound can we make over this track? Right now I'm looking at this Electro-Harmonix Mod Rex Polyrhythmic Modulator that I have in my room. It's full of so many cool and complicated modular tremolo/phaser/flanger/panning sounds, so it's really fun and it sounds great. But if I'm in a live situation, maybe at soundcheck, and I need to fix the sound, or edit a delay in a really specific way for the show, well, that's the kind of thing where I'm going to really lean on the HX Effects. Look, I love analog boxes, but to have literally hundreds of pedals as immediate options, and be able to interchange and edit the sounds in one place? Wow.
Now, I should mention that I do like to run HX Effects in tandem with a couple of other unique hardware pedals, too, including a Chase Bliss Automatone Preamp MkII, which I use to add some nice transparent saturation on the front end, and an Empress Effects Echosystem Dual Engine Delay, which I kick on for all my crazy feedback-in-tempo stuff.
Honestly, it's kind of unusual to encounter a so-called "confessional female singer-songwriter" who also happens to be a total gear geek. Have you always been this way?
Oh, yeah. When I was a teenager and would go to see bands like Circa Survive, I would always be trying to get to the front of the stage—but not to see the band closer up. I wanted to be near the front of the stage so I could look over the barrier to see what they had on their pedalboards. Matt Gilliam, who plays drums with me now, would put me on his shoulders and people would see the "girl on the guys' shoulders" thing, and they'd start to cheer because they thought that the band was going to come out. I'd have to turn around and yell, "No, I just want to see what's on their pedalboards! I don't think they play for another 10 minutes! Go get a beer!"
Photos: Christian Bertrand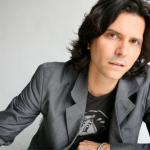 Guitarist and writer James Volpe Rotondi has been a Senior Editor at Guitar Player and Guitar World, a contributor to Rolling Stone, JazzTimes, Acoustic Guitar, Mojo, and Spin, and has toured with the acclaimed bands Mr. Bungle, Humble Pie, and French electro-rock group Air. He lives in Nashville.
---
Related posts
---
---
By submitting your details you are giving Yamaha Guitar Group informed consent to send you a video series on the Line 6 HX Stomp. We will only send you relevant information. We will never sell your information to any third parties. You can, of course, unsubscribe at any time. View our full privacy policy