Mary Halvorson's DL4 Time Warp
by Barry Cleveland
Distinguishing yourself within the New York City jazz scene isn't easy. The legendary multi-instrumentalist and composer Anthony Braxton encouraged Mary Halvorson to find her own musical voice while she was still in school—and she went on to become a member of his band and to work with numerous other luminaries from John Zorn to Bill Frisell to John Dieterich. Halvorson also leads several jazz and avant-garde ensembles, as well as the art-pop band Code Girl. She was awarded a MacArthur "Genius" Grant for music in 2019.
A key component of Halvorson's unique sonic aesthetic is her integration of the DL4 Delay Modeler, which she has deployed for two decades. Halvorson gets a remarkable variety of sounds from the pedal, as well as utilizing its looping capabilities, though she feels there is still more to be discovered. "At nearly every show I get people asking what I'm using, and they seem surprised when they find out it's a DL4, because often they have one," she says. "I think maybe people don't always use it to its capacity. I mean, I don't use it to its capacity, either. I'm sure it does a million things I just haven't figured out yet."
Here, we focus in on what Halvorson does do with the DL4.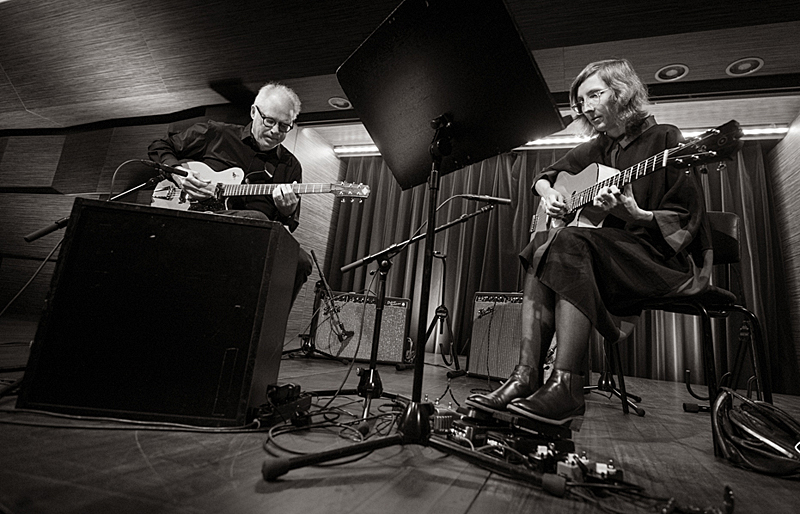 How did you and the DL4 originally cross paths?
I got one in 2000 or 2001. I had been in music school for a year and was getting really disillusioned with the guitar. I was going through a phase where it wasn't very fun and so I asked myself what was fun about guitar and decided that getting some effects pedals might renew my interest. I don't recall exactly why I chose the DL4, other than that I wanted a delay pedal and that's the one that just about every guitar player had.
Then, as I played around with it I kept finding things it could do that I really loved, and that other people weren't necessarily doing. The thing about the DL4 is that although lots of guitarists have one, I rarely hear them use it in the same ways, and over the years I have discovered lots of new sounds that work well for me. For example, a big part of my approach is using an expression pedal to manipulate notes hands free while I'm in the middle of a phrase.
When you were discovering new approaches, did you have specific sounds in mind that you were trying to achieve using the pedal, or did the new approaches stem from discovering additional things it was capable of?
It was more that the pedal's capabilities inspired me. I remember playing around with it when I first got it, turning knobs and finding all these sounds during that initial discovery period. That led to creating presets that I would use most of time, and that incorporated the expression pedal. Then, over the years there were a few times that the pedal died and I had to reset it, so I lost those presets, and because I had programmed them years earlier I wouldn't remember the exact settings and would have to try to recreate them from memory. During that process I would often find new sounds I liked even better, or at least slightly different sounds. I write everything down now, though, so that doesn't happen any longer.
How are you getting those interesting pitch-modulation effects?
I'm changing the delay time using the expression pedal. I have the pedal set to go from zero delay time to a short delay, and moving it as I play results in that pitch-shifting sound. Another thing I like to do is set the delay to a relatively short delay time, but with none of the original signal, so that when I first play a note you hear only the acoustic sound of my guitar, followed by the amplified sound a few moments later, which creates a sort of slap-back effect between the acoustic and amplified sounds. This is particularly effective when I'm recording, as I always record both the acoustic and amplified sounds.
What are your favorite models in the DL4?
The two that I use most frequently are Tape Echo and Tube Echo. I use Tape Echo to get that pitch-shifting sound. I also use Ping Pong for a faster and longer delays, and Stereo Delays to get a weird custom loop thing happening. Oh, and I really like Reverse, as well.
Describe the weird custom loop thing.
I haven't been using the actual Looper function as much lately, but I programmed a preset that has a really long delay that I treat as an additive loop or sort of infinite delay. The loop just keeps repeating whatever I play into it, and I can layer things by going into and out of it using the expression pedal.
By the way, I actually used that preset for something really cool and unusual recently. While recording a duo with a trumpet player, I routed the trumpet sound into the DL4 along with my guitar sound, and then manipulated the composite loop.
Which expression pedal do you use with the DL4 and why?
I use a Mission Engineering EP1-L6. It is made out of metal and is really sturdy, which is important because I am constantly hitting it. I also like that it has good resistance, because sometimes I'm just moving it very slightly and that resistance enables me to execute really subtle micro-movements.
Using the DL4 and an expression pedal to introduce subtle—and sometimes not so subtle—pitch bends into your playing is integral to your sound. Do you recall the origins of that technique?
I discovered that effect accidentally. Back when I first got the pedal I was just messing around with the controls and happened to turn the Delay Time knob while I was playing. I thought, "Wow, that sounds really cool," so I just kept on doing it and gradually integrated it into my sound vocabulary using the expression pedal to control the delay time. I think of it like an accent or an ornamentation of the note in the same way that some people might trill or slide or hammer on. It gives the note a little bit of something extra, almost like using a whammy bar.
In addition to using the expression pedal, do you ever manipulate the DL4's controls on the fly using your hands?
Sometimes if I have a loop going and I want to fade it I'll reach down and do that, but otherwise I'm hands free.
Do you ever assign the expression pedal to other parameters besides delay time?
Yes. I'll sometimes use it to gradually bring a delay sound in and out.
What other pedals do you use in combination with the DL4?
My main other pedal is a Dunlop X volume pedal, which I use almost constantly to control dynamics, to get custom manual tremolo effects, and to change the balance of the acoustic sound of my guitar and the amplified sound. I also have some Mooer mini pedals that I love. I have the Black Secret, which is a basically a Rat distortion copy, and the Tender Octaver MkII, which does both high and low octave effects. I also have the Trelicopter, which is a really nice tremolo that imitates the tremolo on old Fender amps like the Princeton Reverb. The mini pedals are perfect for me because there's a limit as to how much stuff I want to be lugging around in addition to the metal volume and expression pedals.
Do you have any advice for DL4 users?
Yes. Get an expression pedal if you don't already have one. There are just so many more possibilities when you don't have to turn knobs and can use your hands and feet at the same time. And speaking of possibilities, really familiarize yourself with what the DL4 can do because it is much more than a simple delay pedal. If you invest in an expression pedal and spend a few days experimenting with all the DL4's settings, you are almost guaranteed to come up with some sounds that are more interesting than the sounds you were making with it before that.
Learn more about the DL4 Delay Modeler.
Learn more about the Mission Engineering EP1-L6.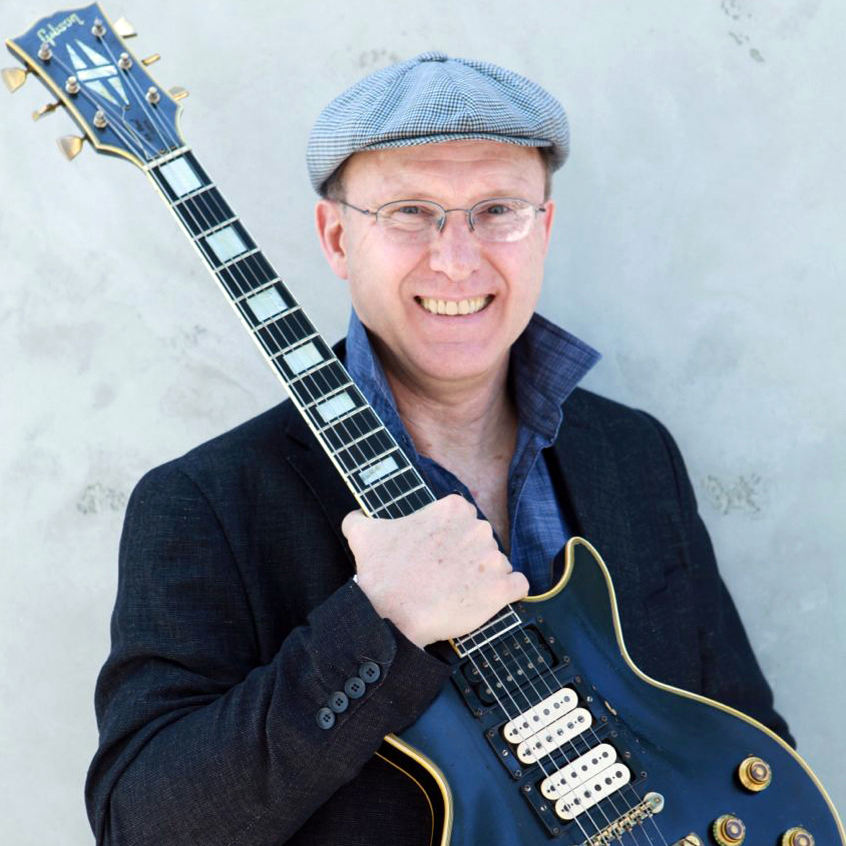 Barry Cleveland is a Los Angeles-based guitarist, recordist, composer, music journalist, and editor-in-chief of Model Citizens and The Lodge, as well as the author of Joe Meek's Bold Techniques and a contributing author to Stompbox: 100 Pedals of the World's Greatest Guitarists. Barry also served as an editor at Guitar Player magazine for 12 years and is currently the Marketing Communications Manager at Yamaha Guitar Group. barrycleveland.com
---
Related posts
---



This is so cool. Reminds me of my modified Space Echo (gutted a crybaby and used it to change the tape speed). I'm going to dust off the DL4 that's in a drawer somewhere around here and get busy 🙂
Thanks!

September 2nd, 2020 at 7:01 pm




So true. I love using an expression pedal with that tape echo, or the reverse echo.

September 2nd, 2020 at 7:03 pm




This is why I posted an idea for an LFO and a randomizer in IdeaScale. My idea is to use the LFO to modulate the delay time and to use the randomizer to keep it from sounding repetitive and mechanical.

November 3rd, 2020 at 4:39 pm

Leave a Reply
You must be logged in to post a comment.
---
By submitting your details you are giving Yamaha Guitar Group informed consent to send you a video series on the Line 6 HX Stomp. We will only send you relevant information. We will never sell your information to any third parties. You can, of course, unsubscribe at any time. View our full privacy policy