Dr. Molly Miller: Pioneering Women of The Guitar
by Dr. Molly Miller
When we think about pioneers of the guitar, we think about players like Chuck Berry, Chet Atkins, and Robert Johnson. While those guitarists are vital to the history of the instrument, there are three women that are often overlooked in the story of guitar and American music. These women changed the way the instrument was played, helped create genres of music, and deeply influenced generations of musicians. If you aren't familiar with them, meet Memphis Minnie, Maybelle Carter, and Sister Rosetta Tharpe. They are pioneers of the guitar and three of my heroes.
Although I studied guitar at a renowned guitar conservatory, it was not until I was 25 that I discovered these guitarists. I had to hunt for them. These three women, critical to the development of American music, had been hiding in plain sight.
Memphis Minnie is the "Queen of the Country Blues." She helped develop R&B and Chicago Blues, wrote songs that we know well, and has played on records we have heard, but many people do not know her name. Memphis Minnie started her career in the 1920s on Beale Street in Memphis, Tennessee. She was busking on the streets, writing songs, creating her own style of playing, and she even toured with the Ringling Brothers! She was influenced by the music around her—Memphis is a music hub and the home of the blues, so her playing had a strong blues foundation. You can hear this in how riff-based many of her songs were. At the time, ragtime was popular, so you can clearly identify that influence in her playing, as well. She would emulate a ragtime pianist with the bass movement, chords, and melody all happening at once—very impressive. She was blending ragtime and blues together to create her own unique sound.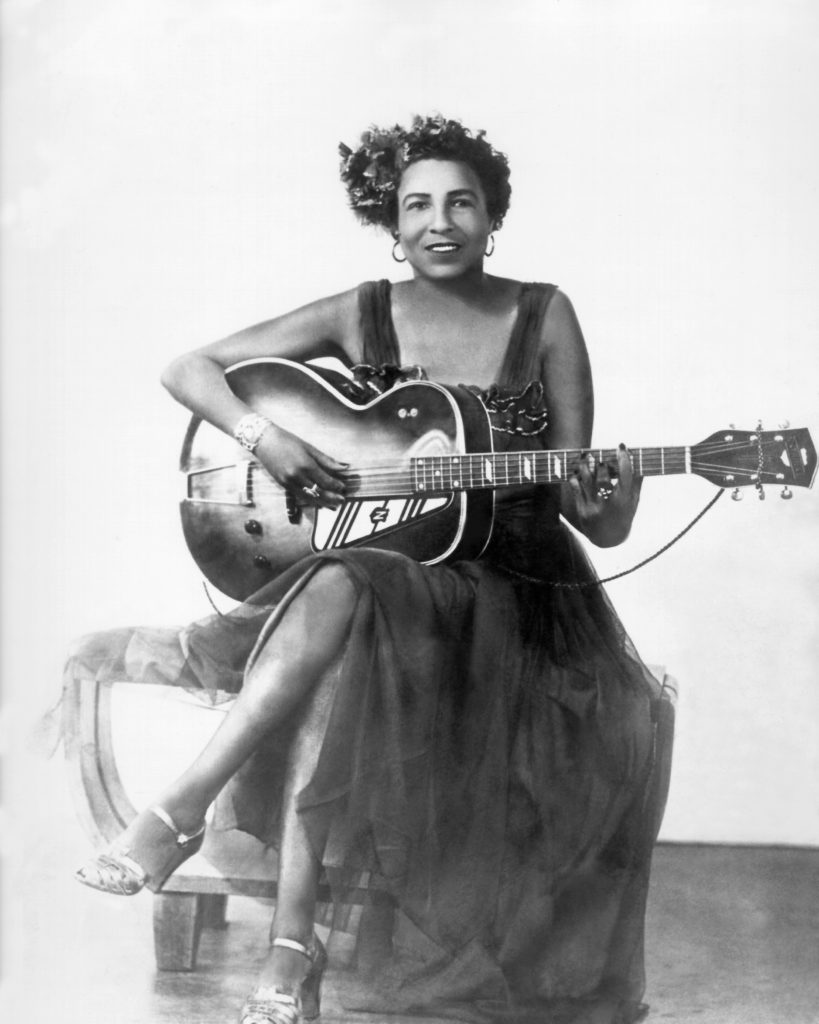 Memphis Minnie had a reputation as being a tough woman. It has been said that she always carried a knife, a pistol, and, of course, a guitar. She gambled, chewed tobacco (she would spit tobacco between songs), and was fearless. She challenged the renowned Big Bill Broonzy to a picking match (sometimes guitarists would challenge each other to a "picking match" to see who was a superior guitarists). She won. I have been hard-pressed to find a live video of her. I have searched long and hard, but am yet to discover one. Although we do not have live footage, there are many accounts that describe this larger-than-life character.
She moved to Chicago in the 1930s and became an in-house session player at legendary blues producer Lester Melrose's studio. She was in good company with players such as Tampa Red and Big Bill Broonzy. Melrose's studio was one of the main studios at the time and helped establish the sounds of Chicago blues. Minnie was constantly playing on records that helped create Chicago blues and establish R&B. She was playing lead lines, playing rhythm guitar, and was also one of the early electric guitarists. Minnie was on the cutting edge of guitar playing, pushing the envelope forward in many ways.
Minnie's songwriting is also a big part of her story. She recorded more than 200 songs, many of which became blues standards. When discovering Minnie, I was familiar with her songs because of the countless covers done by other artists: Led Zeppelin ("When the Levee Breaks," a song that has been performed and recorded by heaps of people), Bob Dylan (who used "Can I Do It for You" as a foundation when writing "Baby Let Me Follow You Down"), Mazy Star ("I'm Sailin'"), and Jefferson Airplane ("Me and My Chauffeur Blues," a blues standard), just to name a few. While we have heard these songs, many have not heard Memphis Minnie's name. Although Minnie's influence is stunning, she died in 1973 broke and not even able to pay for a tombstone. More than two decades later, in 1996, Bonnie Raitt paid for a proper headstone. Although she was not that well known, at least some people understood the power of Memphis Minnie.
Mother Maybelle Carter, a.k.a the "Mother of Country Music," is another woman whose influence on American music is indisputable. She is one of the founders of country music and helped establish guitar as a lead instrument. Maybelle's story begins in 1909, in what is known as "Poor Valley," Virginia. She grew up playing music with her family, singing and playing both spiritual and folk songs. Maybelle started a trio with her cousin Sara, and Sara's husband, AP (who also happened to be Maybelle's brother-in-law). The Carter Family, as they were known, was the first commercial rural country group, and Maybelle's distinctive guitar playing was the hallmark of the group. At the time, their style was known as Hillbilly music—but with help from Maybelle's revolutionary playing, country music was born.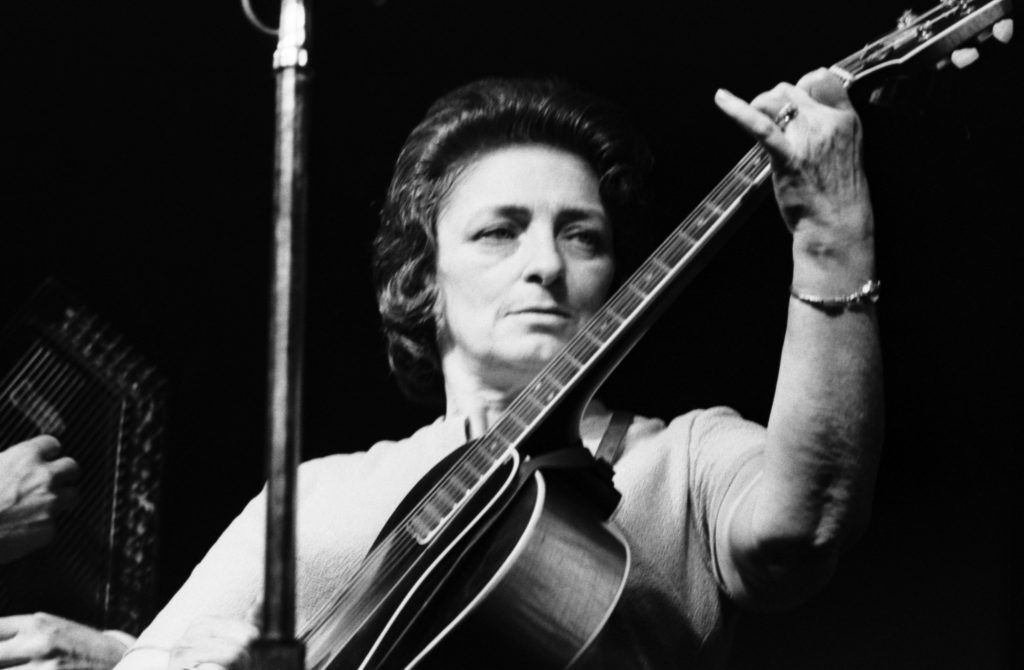 Maybelle did a few innovative things that helped create this new genre and push the boundaries of guitar. She developed and popularized a guitar technique called the "Carter scratch," which is a style used by countless musicians today, where both melody and chords are played at once. Maybelle sites using this technique out of necessity, because she needed to fill out the sound of the trio. There is a ton of great video of Maybelle doing this technique—check it out. Another innovative musical element that The Carter Family added was the instrumental break, a short break in music to momentarily feature different instruments. Both the Carter scratch and instrumental breaks helped establish guitar as a lead instrument.
Maybelle continued on after the original Carter Family disbanded, and created a group with her three daughters: Anita, Helen, and June (Johnny Cash's wife). They did stints playing radio shows in Knoxville, Tennessee, and also in Virginia—but in 1950 eventually settled in Nashville, "the country music capital." In Nashville Maybelle's influence on country music deepened. She worked regularly at The Grand Ole Opry and was the matriarchal figure of the music scene there. She recorded with Flatt and Scruggs on their first album, helped start Chet Atkins' career (he was a member of Maybelle's later iteration of The Carter Family, and one of his biggest hits was an homage to her entitled "Maybelle"), and the list goes on. I've heard it said that everything country has Maybelle's fingerprints on it.
Sister Rosetta Tharpe. The Godmother of Rock 'n' Roll. The Original Soul Sister. Finally, there has been some attention paid to this woman who is so important to the story of the guitar and the development of several American genres. Sister Rosetta Tharpe was raised in the Church of God in Christ, where she quickly became a superstar. She would tour around the country from one church to the next, playing guitar, piano, singing, and dancing. She was a natural show woman. She moved to New York and started working with big jazz artists such as Lucky Millindar, Cab Calloway, and Duke Ellington. During this time, Rosetta began mixing gospel and secular music—something that no one was really doing at the time. She would play gospel music in secular clubs and change words of gospel songs, which altered the meanings. For example, on the song "Rock Me," she changed the lyrics from "Jesus hear me praying" to "won't you hear me singing." Not only was Sister Rosetta Tharpe mixing things up with genres and lyrics, but also with the guitar.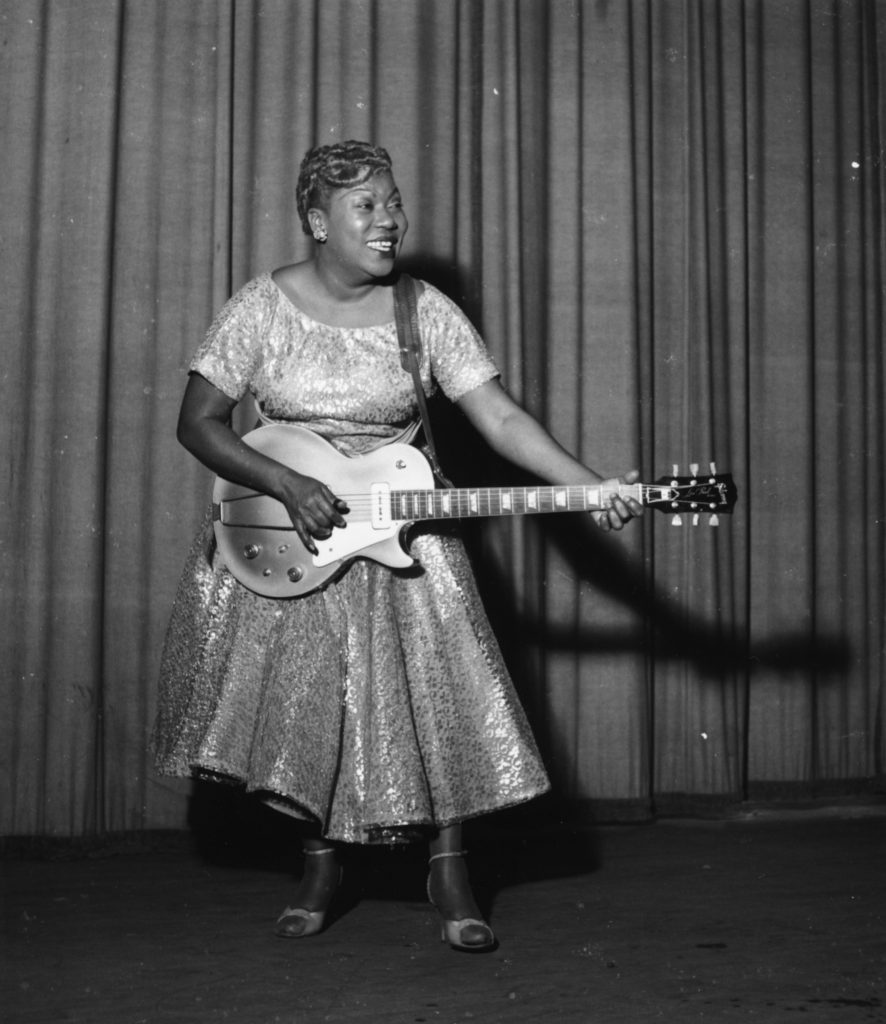 Sister Rosetta Tharpe helped create what we know as rock 'n' roll guitar playing. Even she knew it! In 1957 she said, "All this new stuff they call rock 'n' roll, why, I've been playing that for years now." She played fast triplet licks (very rock!), double-stops before other people were, and slid up and down the neck. When she performed, she did an iconic rock move called the "Windmill," which Pete Townsend is said to have created—but Sister Rosetta Tharpe was doing it long before.
The people we think of as the founders of rock 'n' roll, took from Rosetta. Chuck Berry, Elvis, Jerry Lee Lewis, and Little Richard all site Rosetta as an influence on their music. Little Richard's first performance outside of the church was on Sister Rosetta Tharpe's stage. Elvis used Rosetta's back-up singers, The Jordanaires. In the 1960s, Sister Rosetta Tharpe went to England as a part of all-star European tour put on by jazz impresario George Wein. Bob Dylan said, "I am sure there are a lot of young English guys who picked up an electric guitar after getting a look at her." I highly recommend checking out some of her live footage. She is awe-inspiring and powerful.
Memphis Minnie, Mother Maybelle Carter, and Sister Rosetta Tharpe are giants in the history of music and guitar. Rock, pop, country, Americana, R&B, and blues music would not be what they are if it was not for these women. In the 1930s and 1940s, most self-accompanying players just strummed guitar—but Memphis Minnie, Maybelle Carter, and Rosetta Tharpe all defied that. They pushed the boundaries of the instrument and helped establish it as the lead instrument we know it to be today. They were doing these radical things at the same time, in different places, and in different styles.
The glaring question is: Why are these women not household names? Did being women keep them out of the history books? Are they one generation too far back? They are our hero's heroes. The generation after them—those people that we study—site these women as huge influences.
For people paying attention, though, they are huge figures. Maybelle was the first woman inducted into the Country Music Hall of Fame. Memphis Minnie's songs are standards. Sister Rosetta Tharpe is getting some of her long-overdue credit with contemporary artists. Brittany Howard of Alabama Shakes paid homage to Sister Rosetta Tharpe at the Grammys. While Maybelle, Minnie, and Rosetta haven't been forgotten, I am still dumbstruck at why it took me so long to discover them, and why so many people have still never heard of these revolutionary women—especially guitarists! I feel indebted to these woman, not just because of what they did for guitar and music, but also because they paved a path that makes it easier for me to be a female guitarist.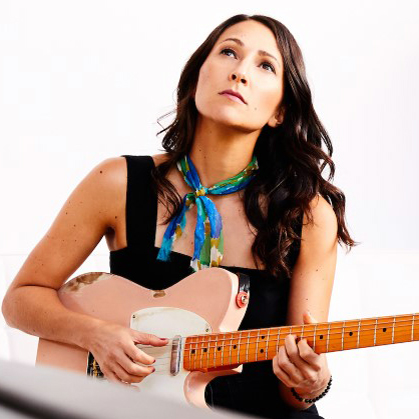 Dr. Molly Miller records and tours with artists such as Jason Mraz, in addition to leading the Molly Miller Trio. She also chairs the Guitar Department at Los Angeles College of Music.
---
Related posts
---
Leave a Reply
You must be logged in to post a comment.
---
By submitting your details you are giving Yamaha Guitar Group informed consent to send you a video series on the Line 6 HX Stomp. We will only send you relevant information. We will never sell your information to any third parties. You can, of course, unsubscribe at any time. View our full privacy policy