Paul Richards – Guitar Craftiness, Shepard Tones, and Echoes (plus free Helix/HX presets!)
by Barry Cleveland
Guitarist Paul Richards is primarily known as a founding member of the California Guitar Trio, but he has also been a member of King Crimson guitarist Robert Fripp's League of Crafty Guitarists and the Robert Fripp String Quintet, touring extensively with both ensembles. In fact, the California Guitar Trio is rooted in Fripp's Guitar Craft community, as that is where the three original members first crossed paths in 1987, before forming CGT in 1991, and many of the techniques and principles they acquired there remain fundamental to their approach to their instruments. Most significantly, Richards, Bert Lams, and Hideyo Moriya (replaced by Chapman Stick player Tom Griesgraber in the current lineup) employ Fripp's New Standard Tuning—C, G, E, A, D, G, low to high—which extends the range of their guitars significantly.
The California Guitar Trio's music, however, is far from esoteric. Whether performing original compositions or reworking classics from "Walk Don't Run" to "Bohemian Rhapsody" to "The William Tell Overture," and more recently Pink Floyd's "Echoes," the group exudes crowd-pleasing wit and charm along with its abundant virtuosity.
CGT expanded its vision in 2018 by teaming up with The Montreal Guitar Trio to form a sort of super sextet, playing a series of shows and releasing In a Landscape in 2019. The California Guitar Trio's 25th and latest release is the 2021 EP Live In Scottsdale On Tour With King Crimson, recorded during a 13-date run with what was likely the legendary band's final tour. Given that CGT first gained international exposure playing 130 shows with King Crimson in 1995 and 1996, the 2021 shows served as fitting bookends.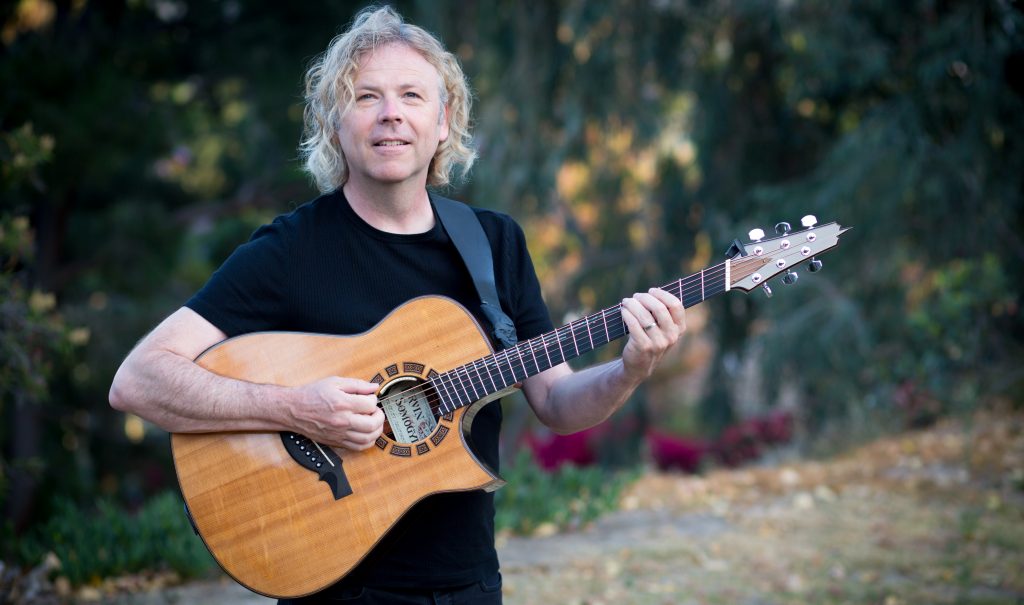 Richards with his custom Ervin Somogyi guitar.
Did you always primarily play acoustic guitar or did you play electric guitar as well?
I've always played acoustic, but in my early formative years I was primarily an electric guitarist and I also played bass. My dad helped me buy a used 1970s Les Paul when I was 13, which was my first good electric, and I also had an inexpensive Ovation acoustic. So, I've always played both, but after I became super involved with Guitar Craft I began to focus primarily on acoustic.
How did you come to use effects with acoustic guitar?
Electric guitar has always been a passion and something that's been very inspiring, and I began using effects with electric—but I also wanted to use them with acoustic and I've had at least a basic pedalboard going all the way back to the founding of CGT in 1991. At that point I had an Electro-Harmonix Big Muff Pi, a DigiTech Echo Plus 8 Second Delay, and a few other pedals. I also had an EBow that Robert Fripp gave me, which he had gotten from Chris Stein of Blondie. He handed it to me and said, "Here, see what you can do with this." I loved the sound it made with acoustic guitar, which is mellower than with an electric, so I got one of my own and returned his to him.
When did you begin using Line 6 effects?
My first delay pedal was a DL4 Delay Modeler that I purchased about 15 years ago and have used in many different ways. At the moment I use it primarily for looping, but there are also a few presets that I've programmed for specific pieces over the years. Recently, I used the looper to create textures and half-speed textures on our version of "Echoes." There are lots of great effects in that pedal, my favorite probably being Tape Echo, which sounds a lot like the Roland Space Echo I had access to for a while. I also use the Rhythm Delay, the Reverse Delay, and sometimes the Digital Delay w/Mod. Of course, since that time I've also used a lot of other Line 6 gear.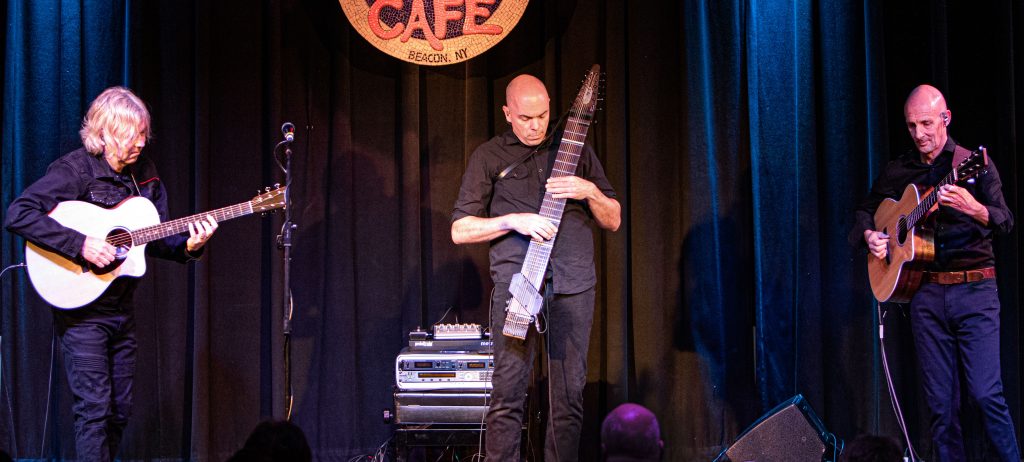 Paul Richards, Tom Griesgraber, and Bert Lams (left to right)
Including?
I have a Helix Floor that I use at home, an HX Effects that I used on tour for a while, and both the HX Stomp and HX Stomp XL pedals. I also have a Spider V 120 combo amp that I use mostly with my Stratocaster, and StageSource powered speakers that I occasionally use for solo performances and CGT rehearsals when they are held here in LA.
What acoustic guitars are you playing currently?
One is a Martin SC-13E, which is a brand new model featuring the Sure Align neck system that lets you adjust the intonation by moving the neck forward or backward in addition to adjusting the angle. That's made a huge difference for me, as nearly all acoustic guitars have at least some slight intonation issues. It comes with a Fishman MX preamp and a Sonicore undersaddle piezo pickup. I also have a Breedlove A 15 concert model and a custom built Jason Kostal. As for pickups, one that I've been experimenting a lot with is the Mojotone Quiet Coil NC-1. It's an in-hole magnetic pickup, but it has some microphone-like qualities to it that make it interesting.
You have an atypical signal chain. Take us through it briefly.
First comes an Audio Sprockets ToneDexter preamplifier. It has the basic features you would expect in an acoustic instrument preamp, but it also lets you create "WaveMaps" by plugging in a studio microphone and sampling the acoustic sound of your guitar as captured by that particular mic. The WaveMap is stored as a preset, and you blend that sound with the sound of the undersaddle pickup connected to the preamp. The ToneDexter also has an effects loop, and that's where I patch in the DL4 and either the HX Stomp or the HX Stomp XL.
So the preamp tone is routed to the effects rather than the effects sound being routed to the preamp input?
Yes. That's what works best with the ToneDexter.
"ECHOES"
One of the highlights of CGT performances is the group's reworking of Pink Floyd's 23:34 "Echoes" into an arrangement half that long. Richards plays David Gilmour's electric guitar parts, as well as Richard Wright's keyboard parts, on his acoustic guitar—including mimicking Gilmour's iconic "whale" sounds using a slide. He coaxes all of the sounds from his DL4 and the amp and effects models in his HX Stomp. Richards performs the piece live using variations on four of his custom HX presets: Whale, EchoesDrive, Rotary Fuzz, and EchoesOctSwell.
The CGT version of "Echoes" begins a little differently than the original. What's going on there?
Using my Whale preset and beginning up around the 17th fret I move the slide slowly down the fretboard while also rubbing the strings with my hand. About a quarter of the way down I loop the sound with the DL4 and then switch to overdub mode as I continue descending, so that the parts overlap. Then, at the end, I drop everything down an octave by switching the loop to half-speed playback. What's interesting is that I'm creating an aural illusion known as a Shepard Tone, which gives the impression that a sound is continually descending or ascending. Pink Floyd used the effect on "Echoes" and it has also been used by several film composers. Basically, it involves overlapping a shifting tone with the same tone an octave above and an octave below, which I'm sort of approximating by moving along the full range of the fretboard. At the end of the piece I reverse the loop and bring the Shepard Tone back in so that it ascends instead of descending, like it does at the end of the album track.

That's followed by the melodic introduction, which you also play with a slide.
Yes. I think Gilmour is just bending strings in that section, but on the acoustic guitar I recreate it using a slide. For that part I switch to the EchoesDrive preset, which includes several of the effects that he actually used, such as a Colorsound preamp (Colordrive) and the Binson Echorec (Echo Platter), as well as the Hiwatt DR103 (WhoWatt 100) amp that he played through. There's also a Rat (Classic Dist) in the signal path following the Colorsound preamp, which gets used on solos later on, though obviously that isn't a pedal Gilmour used on the song. Reportedly, the Binson was set for about 300ms of delay time, so I set the Echo Platter delay to 310ms.

How are you approximating Richard Wright's keyboard sounds in various sections?
My Rotary Fuzz preset combines a Leslie 145 (145 Rotary) rotary speaker cabinet with a Fuzz Face (Facial Fuzz) to emulate his distorted Hammond organ sound, and I use the Pitch Vibrato model to approximate the sound of his Fender Rhodes piano. I use my EchoesOctSwell preset, which combines several of the effects already mentioned, with the Plateaux reverb to emulate some of Wright's synth-like sounds, especially on the buildup coming out of the middle section. Plateaux includes an octave above and an octave below, and by using volume swells I can get pretty close to the original synth sound. That preset is one I'm actually quite proud of because after shows people often ask me if I'm using some kind of guitar synth but I'm not. It's just the HX Stomp.

How you are emulating the "whale" or "seagull" sounds during the spacey middle section?
David Gilmour got those sounds by plugging his wah pedal in backwards, causing it to squeal, and using the controls on his Stratocaster to produce different effects. I use a slide and the effects in the Whale preset to mimic those sounds, but I also wanted to do my own thing, so I listened to a lot of recordings of actual whale sounds and I try to mimic those as well.
To wrap up, what advice would you give acoustic guitarists who are using effects pedals?
Most effects pedals are designed for use with electric guitar, of course, and their typical settings and especially their presets don't always translate so well to acoustic, so you need to discover which ones work for you. Often it is surprising what works and what doesn't. For example, I wouldn't have expected some of the classic fuzz sounds like the Fuzz Face and the Big Muff to work very well, and although I do have to EQ them to keep them from feeding back, they actually sound great. On the other hand, some of my favorite vintage and modern amps don't work all that well with acoustic. My advice is to take the time to become really familiar with all of your individual effects—learn what they can do and how they sound in different combinations—so that you can create the very best sounds for your music and the instrument you play.
Photos: Rick Pauline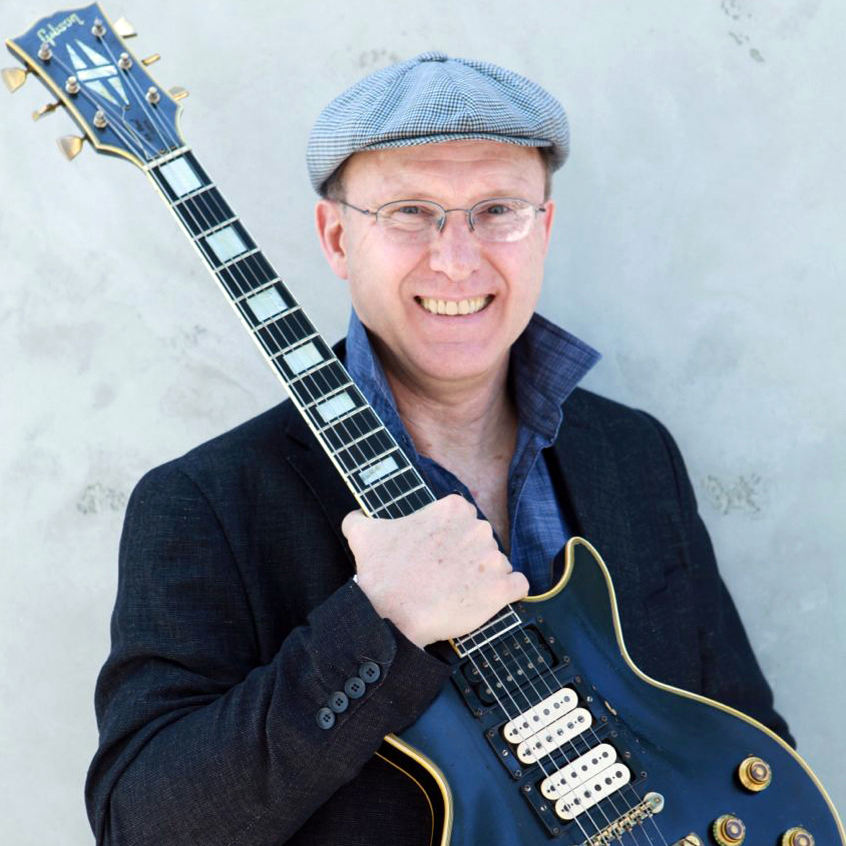 Barry Cleveland is a Los Angeles-based guitarist, recordist, composer, music journalist, and editor-in-chief of Model Citizens and The Lodge, as well as the author of Joe Meek's Bold Techniques and a contributing author to Stompbox: 100 Pedals of the World's Greatest Guitarists. Barry also served as an editor at Guitar Player magazine for 12 years and is currently the Marketing Communications Manager at Yamaha Guitar Group. barrycleveland.com
---
Related posts
---
Leave a Reply
You must be logged in to post a comment.
---
By submitting your details you are giving Yamaha Guitar Group informed consent to send you a video series on the Line 6 HX Stomp. We will only send you relevant information. We will never sell your information to any third parties. You can, of course, unsubscribe at any time. View our full privacy policy