Matt Scannell on Using HX Effects with 4-Cable Method In His Live Rig
by Matt Blackett
Although he had enjoyed a respectable amount of success in the early-to-mid '90s with his band Vertical Horizon, Matt Scannell truly appeared on the pop-rock radar in 1999 with the release of Everything You Want, a breakout record that contained the #1 hit title track. Since then, he has toured and recorded consistently, seen his tune "Best I Ever Had" covered by country star Gary Allan, and collaborated multiple times with drum legend Neil Peart. Currently gigging in support of The Lost Mile, Scannell spoke with Line 6 about how HX Effects works within his live rig using 4-Cable Method, and gets him back to his stompbox roots.
Flyout Gigs
"This tour, for the majority of the set," says Scannell, "I'm playing a Paul Reed Smith Singlecut with a piezo pickup and a magnetic pickup. Both signals go into a pedalboard that was built for me by XTS, Xact Tone Solutions, in Nashville. The piezo signal goes into a DI that goes to the front of house and the magnetic pickups go into a Line 6 HX Effects. Now, about this pedalboard: I travel with one split rolling duffel bag. My personal stuff all needs to pack down to one 50 lb. checked bag. Because of the size and the weight of my pedalboard with the HX Effects, I'm able to do that easily. I have a small carrying case that the board fits in, and that goes in the bottom of my duffel bag, and my clothes go on the top. It's a super-small, compact, light, and incredibly expandable setup, and it lets me do these flyout gigs with the confidence that I can get my sound anywhere, which is a great thing."
The Rig
"I use 4-Cable Method with HX Effects, where certain effects can go to the front end of my amp and others can go to the amp's effects loop. In one of the HX pedal's effects loops I have an Analog Man King of Tone pedal. That loop on the HX is always on, and I access the footswitches on the pedal to turn either of the channels on. And then, depending on the preset on the HX Effects, I'm able to put effects in front of that loop, meaning in front of the King of Tone pedal, or after it—but still going to the front end of the amplifier. With 4-Cable Method, I'm able to run my time-based effects, like reverb and most of my delays, through the effects loop on the amp. And, generally speaking, when we're playing live using backline gear, I'm using a Marshall DSL 50 or a DSL 100, so there's always an effects loop on the amp.
"Here's an example of how I employ it: We have a song from the Everything You Want record called 'We Are,' and we've been opening shows with that song lately. It has a pretty big rock sound from the amp, so I use the left side of the King of Tone pedal to push the Marshall a little bit harder. From the HX, I'm using the Ganymede reverb model, and I also have an Analog Delay with Mod set to a 300ms repeat with low feedback. The 300ms delay is always on, and then in the verses, I bring in a dotted-eighth-note delay, which is the Digital Delay with Mod. That gives me an Edge- or David Gilmour-style rhythmic repeat. There's a section in the re-intro where I kick in a Grey Flanger, to add a little bit more chaos to this lead line that I play. That's just a great-sounding flanger. The Grey Flanger and all those time-based effects are going to the effects loop on the Marshall.
"I am a completely obsessed Boss VB-2 Vibrato user, ever since I heard what Mike Landau and Michael Thompson could do with that pedal, and I'm very picky about that sound. I really think Line 6 nailed it on the HX Effects. So I also use vibrato on this song, and that effect goes to the front of the amp."
Sound Quality Vs. Sound Quantity
"One of the incredible improvements for me in the HX over other processors is in the reverb models. I never used to be a reverb guy. Reverb irked me, and maybe that was partly because I just wasn't crazy about the reverbs I had access to. I love the reverbs in the HX Effects. I think they sound absolutely fabulous, particularly the Ganymede reverb. I have the Ganymede on all night long. I don't even have a footswitch to turn it off. I just leave it on, almost like you would a spring reverb on an old Fender amp. But some nights different rooms will be more live or less live and I'll go in and adjust the overall mix level during sound check. It's actually very easy and intuitive to edit sounds on the HX.
"The tendency with these kinds of processors is to think that because you have so much horsepower, you need to use all of it all the time. Part of the key for me when using the HX is to keep in the back of my mind the guitar tone on 'Back in Black.' So most of my time is spent with fairly simple signal paths, even though I have the ability to get a little crazy."
To Preset, or Not to Preset
"I definitely turn individual effects on and off like stompboxes, and that's generally how I use all the banks on my HX. I'm just now getting into using Snapshots, where you can change multiple effects and parameters with one switch. I approach it in much more of an old-school way, like 'Turn the flanger on, turn the flanger off.' I'll use different banks for different songs, but also for different vibes. For example, I found that the Opto Tremolo model in front of the amp is more subtle, and that's typically how I like to hear a tremolo—not super choppy. There's a phase shifter called the Barberpole Phaser that really has the sound and feel of an analog effect. So, I have a bank with those effects going to the front of the amp, and that makes my pedalboard feel more organic and lo-fi, in a good way. I have another bank where those effects go to the amp's loop, for a more glitzy, digital, high-res kind of sound. That changes the way I play. I can choose between those setups depending on the song, depending on the gig, or depending on my mood. Individual stompboxes, no matter how cool they are, can't really do that—certainly not on the fly. It's crazy to think about how difficult, expensive, and heavy it would have been to do this kind of stuff even just a few years ago!"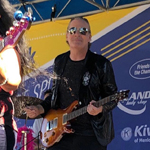 Matt Blackett is a guitarist, writer, and consultant in Northern California. When he's not writing about guitars, guitarists, and gear, he can be found scuba diving in various tropical locales.
Matt Scannell photo: Brett Missick
---
Related posts
---
Leave a Reply
You must be logged in to post a comment.