Paul Freudenberg: Every Day Is Record Store Day When Your Record Label Releases Vinyl
by Paul Freudenberg
This is a tale: A tale of passion, technology, art, and curiosity.
I entered the Los Angeles studio scene as a young technician/engineer around 1982. Early in my career, I had the good fortune to land a job at one of the label-owned recording studios in town. It was an amazing and magical place. There were three recording rooms of various sizes, all outfitted with exactly the same equipment: two 24-track analog machines, two 2-track/4-track machines, and a 40-input console with moving-fader automation. Outboard gear racks and patch bays were also identical. There were even six live reverb chambers. And to top it all off, there was a mastering studio with a Neumann lathe, a Telefunken mastering desk, and companion machines.
For a greenhorn like me, it was true audio heaven. I honestly couldn't believe that I got paid to work in such a lovely and well-thought-out environment. I also loved the idea of getting paid to listen to music. This studio was the product of collaboration between a small number of well-seasoned professionals and it showed. There were systems and procedures in place, all designed to assist the creative process at the highest professional level. I paid particular attention to the lacquer mastering room. The technology seemed like something from a future-primitive world, which I found fascinating. Many award-winning albums were cut and mixed there during my five-year tenure.
As a lover of music and the technology that accompanies it, I wound up leaving the studio world and began focusing more on live sound and products for that market. I spent many fulfilling years traveling all over, as I represented some of the premier equipment manufacturers in the world.

Needle-drop to 2019. I was examining my life and accomplishments within the audio industry, which were diverse and satisfying in their own right—but I was starting to realize that I had completely distanced myself from the studios. I found myself aching for something new, but familiar. At the same time, I started having powerful feelings of nostalgia for the studio atmosphere—the sounds, the smells, the equipment. I had always loved the studio process and being surrounded by musicians and beautiful music. As I immersed myself in this nostalgia, a new dream started to form: I wanted to start a record label.
With that in mind, I conceived my business as focusing on hi-res digital multichannel recording, and developing workflows for adapting mixes from stereo to the emerging immersive formats. I reached out to a few of my trusted inner-circle of music aficionados, talented musicians, and trusted advisors for input and they all asked the same question: "Are you going to do vinyl?" Just the statement reignited my dormant passions. I had always loved making records. So, with that spark, I set out on this journey, which has already given me so many wonderful moments of joy and satisfaction. I wish I had done it sooner. But you may be wondering why anyone would want to get into releasing vinyl records in the 21st century?
I am here to share this personal story of music, technology, love, adventure, and (re)discovery. (Keep in mind that much of the early journey was pre-pandemic. There would be many pivots and course corrections due to circumstances outside of anyone's control. I like to say this all added to the fun.)
With the idea of producing vinyl records percolating in my brain, the first thing I needed to know about was market size. I'd been hearing that vinyl was on the upswing of a nearly five-year comeback. A cursory internet search said the Recording Industry Association of America (RIAA) reported 30 million vinyl units sold in 2019. Was that a lot? A little? Was it accurate? I needed to know more before I could decide if issuing vinyl was in my future. But first, I was off to the hi-fi store to get a new turntable and assemble the "Shrine to Beautiful Music."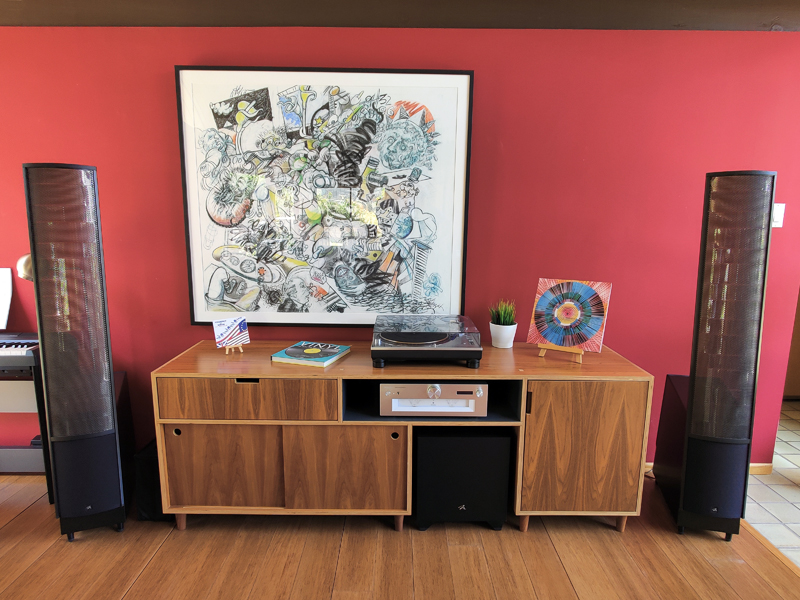 Once my Shrine was complete and I'd re-purchased a few old favorites in vinyl form, I spent many evenings just listening to music. Not looking at my phone, not "doing" anything—just listening to the sound waves that crossed my living room and hit my ears. "Listening to records" was such a huge part of my youth. I remember spending hours laying on the floor, looking at album covers and liner notes. It took my new setup to make me realize how much we are missing out on by taking our music with us everywhere. Music used to be the focal point and now it's mainly an accompaniment to something else we are doing. I realized I wanted to do all I could to bring the art of listening to records back into our collective consciousness. Now, it's the focal point of a new family routine: Music Time with my son. Every night we can, we take 20 minutes to listen to a record side, mostly jazz from legacy artists such as Art Blakey, Miles Davis, Duke Ellington, and Keith Jarrett. It's a time I cherish.
I put on my research hat and set out to discover the market size. Online resources, including industry sources, varied widely. I chose to go to the source: I visited my local record pressing plant, and the folks there were only too happy to share. This particular plant provides plating and processing services, as well as pressing and packaging. A small army of dedicated professionals apply their special precision and scrutiny to each project that passes through their hands. When I asked them about market size, I referred to the data I had found. I wanted to know how it compared to their numbers, and their answer surprised me. The actual number of vinyl units produced annually appeared to be five-to-seven times larger than the industry statistics. Why such a difference?
The answer varies depending on who you ask, but there appears to be a consensus that much of the vinyl pressed today is done for limited, specialty markets of enthusiastic listeners and collectors. The "small batch" approach bypasses much of the conventional sales tracking methods, with boutique labels selling direct-to-consumer. With many vinyl projects, there is no intense marketing drive for a Gold or Platinum Award (though there is still the dream). Rather, these boutique vinyl producers are making records on a limited basis, and it's all about providing quality products for a discerning group of aficionados.
I asked about other aspects of the industry, including mastering engineers, pressing quality, vinyl weight, printing, production of elements, and most specifically, how to scale expectations as a boutique producer. The most significant takeaway from all this was not to be in a rush. Yes, in our connected world of immediacy, vinyl is in the slow lane. Every step is a real-time event and there is no "hardware acceleration." The vinyl process and the vinyl lifestyle are both all about taking it slow and not being in a hurry—ultimately immersing yourself in the music with careful deliberation and deep listening.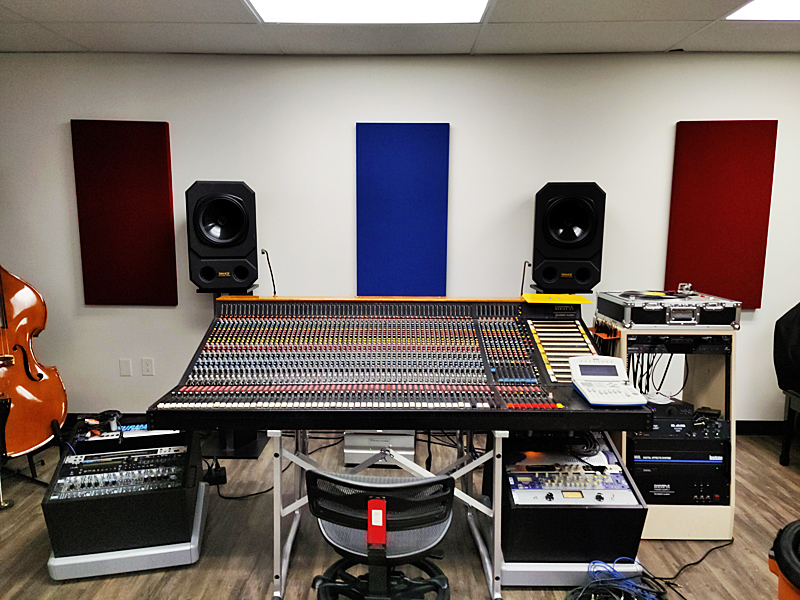 With all this positive news, I decided I was absolutely going to start a record label and make vinyl records. Not only that, I also planned to bring back the art of recording live—the whole band in one room, playing at the same time. No "sax on Monday, keyboards on Tuesday, vocals on Friday," for me. There is a certain energy when musicians get together and I wanted to capture that. Now, I just needed to get some artists onboard.
I reached out to people I knew (and some I didn't) and pitched them the idea of collaborating on live recordings, released on vinyl. Everyone I spoke to lit up at the idea and agreed almost immediately. I took this as a sign that I was on the right track and got to work setting up my new record label, SoundScapes Media Group.
Things were humming along smoothly when there began to be rumblings about some kind of deadly virus spreading around the world. "Two weeks to flatten the curve" didn't seem like it would be too much of a problem, but about four months into the lockdown it became clear that many of the initial goals for this burgeoning record label would not be possible to achieve. Studio shutdowns and musicians seeking to "shelter in place" brought an immediate halt to my dream of recording live in studio.
I went back to my initial artists and asked if they had any unreleased material and, if they did, would they like to release it exclusively on vinyl, which seemed like an achievable goal, even given all of the challenges the world was going through. I was pleasantly surprised when they all said yes. So, I was back in business. With A&R complete, I got the digital master recordings and was off to sequencing, timing, and vinyl mastering.
A few months later, when I was deep into the process of making records, fire season hit my fair city and along with it came Internet service cuts, putting a temporary stop to streaming media. That was one more sign that I was on the right track. With vinyl, even if the Internet is down, you can still listen to your records. That was followed by a real light-bulb realization: vinyl is the "free-est" form of music. You can play it any time you want (as long as you have electricity), nobody's tracking you so they can market similar things to you, and no one can take it away from you. With vinyl you retain free use of your music and you can share often.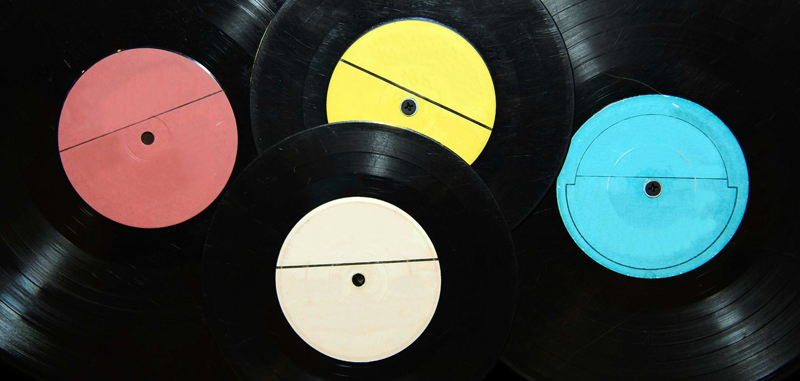 With the music taken care of, I turned my attention to the rest of the process. As for the vinyl, I was going to make a statement by using heavyweight 180-gram vinyl as a testimony to the durability and substance of the music.
When it came to creating the album jackets, I had lots of help from friends who are visual artists—and the process went so smoothly it was almost magical. The materials included paintings, drawings, and photos, in addition to various graphic elements. A full package might comprise multiple pieces of art for the outer jacket, inner gatefold, disc labels, and even a poster or lyric sheet. All of these elements come together to bind the art into something new. The humble 12-inch package; what makes vinyl worth owning; the first immersive experience. More importantly, though, are the artists and craftspeople who put their special brand of attention and polish on the composite package. The result is a product that is greater than the sum of its parts, worthy of care and long-term ownership.
One of the many remarkable things I experienced on this journey was the chance to listen to the original 96kHz/24-bit digital files and the vinyl test pressings side-by-side. The difference is surprising; vinyl lifts sound out of the tracks; it is quite literally a three-dimensional vibration. A warm robust bottom end, clear and present midrange, and smooth open top-end. Nothing shrill or harsh, just a long, smooth ride down 2,500 feet of microgroove.
Today, a digital single "drops." I don't know about you, but when I drop things, they either get lost or they break. A vinyl LP, in comparison, is "released," like a caged animal that has so much life force it frees itself from its binding. Sure, we may be splitting semantic hairs, but I favor a good old-fashioned album release party.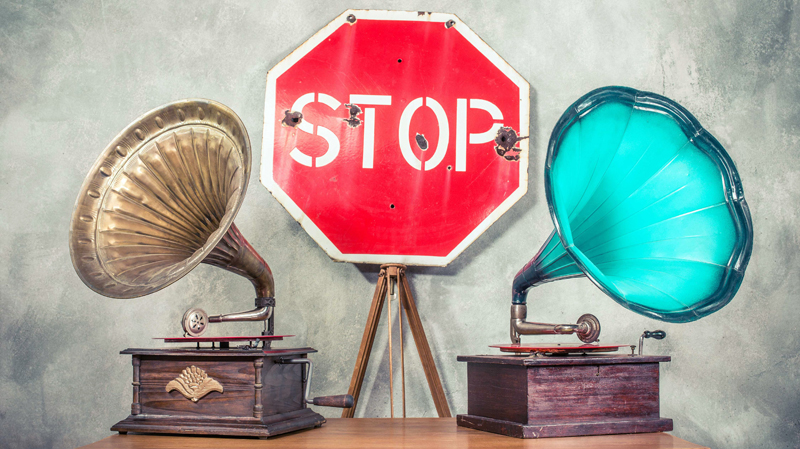 Some folks feel that vinyl records are too fragile, but I find that they require just the right amount of care. The entire ceremony from the search amongst the spines, to taking the jacket out of the plastic protection sleeve you bought to protect it, to carefully sliding the disc out of the inner sleeve and placing it on the turntable, to gently cleaning it with a cleaning pad, to very carefully aiming the stylus at the lead-in groove and gradually lowering the tone arm. Then, once played, the disc is delicately put back into its sleeve as the process is reversed. By treating vinyl records as precious, the owner imparts an elevated value to them.
When the lacquer master is plated, a set of pressing tools is the final outcome. A single set of tools comes from one master lacquer. These tools have a limited useful life, resulting in a limited number of pressings that can be produced, and thus conferring a degree of scarcity to the physical object.
Back in the analog tape era, extreme care was given to the preservation of the original master tape—because there was only one. Sure, oftentimes copies were made, but the engineer's job was to ensure the highest original-quality master tape was used for each stage of the tracking and mixing process. Again, a single original imparts a special status.
Possibly the biggest "Aha!" moment in this journey was the realization that vinyl connects people like no other medium does. It is produced in great collaboration and best consumed in the same way. Whereas streaming is the "fast-food" of music delivery, vinyl is decidedly slower food—a four-course meal, prepared with love and wholesome ingredients, steeped in time, and savored at the moment and upon reflection.
At the point of this writing, Soundscapes Media Group has one album that is completely finished (it comes in two versions and the Collector's Edition includes a poster), and three that are at varying stages of completion.
With all that said, you know where you will find me on July 17, 2021—Record Store Day. I'll be intently flipping through the bins, with an ear and eye for discovery, possibly for hours on end. Please feel free to join me, wherever you are in the world. Aim to grab a piece of something that you know is going to last.
Main photo: James Kirkikis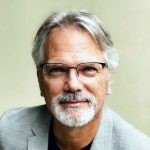 Paul Freudenberg is a lifelong music and technology enthusiast, audio engineer and technician, technical and editorial writer, purveyor of professional audio equipment, vinyl crusader, and founder of SoundScapes Media Group, a record label specializing in jazz, blues, and world music—exclusively on vinyl.
---
Related posts
---
Leave a Reply
You must be logged in to post a comment.
---
By submitting your details you are giving Yamaha Guitar Group informed consent to send you a video series on the Line 6 HX Stomp. We will only send you relevant information. We will never sell your information to any third parties. You can, of course, unsubscribe at any time. View our full privacy policy