Jeff Schroeder on Sonic Inspiration and His Multi-Modulation Helix Preset (Free Download)
by Jeff Schroeder
Hello again fellow Helix creators. I'm always quite happy and honored to contribute to Model Citizens. In this post, I want to talk about how I use Helix as a creative tool to generate new song ideas. In sharing some small excerpts from my rough songwriting demos, I will also discuss how using multiple layers of modulation within a given preset has provided an abundance of inspiration over the last few months.
I've created a preset called "Multi-Modulation" that you can download below. For those into post-punk, dream pop, and shoegaze styles of guitar, this will be fairly familiar territory. If you come from other styles of playing, this could be a nice opportunity to experiment a bit. Like most of my presets, this one has a fairly straightforward signal path and effect routing.

Within the preset, there are four unique Snapshots that highlight the different types of modulations in the signal path: flanger, chorus, flanged chorus, and a big modulated reverb. Although each Snapshot puts one type of modulation effect into the foreground, there are always multiple layers of modulation happening simultaneously. Combined with ample amounts of delay and reverb that are also modulated, the intermingling of all these sounds creates unique sonic moments that I find push me to play in new ways, leading to new ideas—and I never walk away without creating at least one new riff.
This is one of the wonderful things about using a device like Helix: It allows you to take very deep dives into one type of effect, in this case modulation. I frequently hear both old and new users say that the seemingly unlimited choices Helix provides can be overwhelming at times. Like with people, it can take a while to build a meaningful relationship with a piece of equipment. However, the time commitment is usually worthwhile. I suggest focusing on one effect or amp type at a time, and going deep into exploring what you can do with that particular sound or tone. Follow the rules, break the rules, make up your own rules—it doesn't matter. There's a reason that Helix allows you the flexibility to do almost anything.
The initial inspiration for this preset came from my never-ending obsessions with John McGeoch (Siousxie and the Banshees), Vini Reilly (the Durutti Column), and Robin Guthrie (Cocteau Twins), all three guitar players from the post-punk era who used modulation in very interesting and creative ways. That being said, the preset does not attempt to replicate any one sound or song from any of these artists. Listening to their playing simply encouraged me to play around with similar types of effects in Helix.
All the following examples are just quick demos I've made over the last few weeks while playing around with this preset. I don't get too precious with them. My main concern is just to document the idea quickly before I forget it. If I have time, I'll drop in a simple drum beat and bass line (usually with a synth), but other times I'll just open my DAW and quickly document an idea before it disappears.

Example 1
In Example 1, the primary source of modulation is the "Gray Flanger." As you can see in the screen capture, the rate is set fairly slow. Try increasing the rate until the sea sickness gets too intense for you. Also, changing the tempo, which only affects the delay times, will greatly transform how the modulations interact with each other.

Example 2
Example 2 is more of your classic '80s-inspired chorus/delay/reverb sound. I've included two versions: one with drum machine and bass synth and one with just the soloed guitar, so you can hear more clearly how the various effects are working together. I chose the "70s Chorus" because it pairs quite nicely with the "Jazz Rivet 120" amp model. However, there are many wonderful chorus models in Helix and I encourage you to switch out and try different ones. For example, I'm also a big fan of the "Trinity Chorus."
Example 3
In Example 3, I use both flanger and chorus together to get some really nice overtones and movement across the stereo spectrum.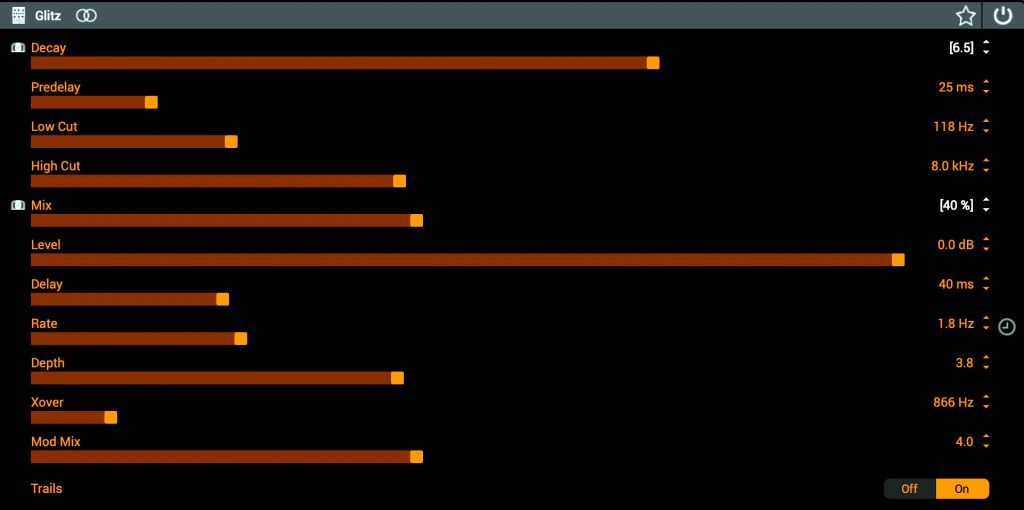 Example 4
And in Example 4, I increased the mix and size of the modulated reverb to create a beautiful atmospheric sound around the notes.
I used a guitar with single-coil pickups and a vintage output level to create the preset and play all of the examples. Depending on the type of guitar you play and the type of pickups you use, you'll have to adjust the settings to suit your personal style and tastes, which is a good thing. Also, the preset works best in stereo. Please have fun playing around with this preset, including swapping out different types of modulation blocks—just to discover what happens. Hopefully, you will also be inspired to play differently, try new things, and create new music.

Jeff Schroeder is a musician based in Los Angeles. He currently plays guitar in the Smashing Pumpkins and Night Dreamer. Besides guitar, Jeff is obsessed with coffee and 20th century experimental literature.
Learn more about Helix.
Main Image: agsandrew
---
Related posts
---
Leave a Reply
You must be logged in to post a comment.
---
By submitting your details you are giving Yamaha Guitar Group informed consent to send you a video series on the Line 6 HX Stomp. We will only send you relevant information. We will never sell your information to any third parties. You can, of course, unsubscribe at any time. View our full privacy policy