Dave Hunter: Unsung British Guitar Amps from the Golden Age of Rock
by Dave Hunter
Most guitarists have an image of the "classic British tone" in their mind's ear, though that might differ depending on their general preferences. The legendary sounds of Marshall and Vox amps of the golden age of English valve amps will provide the reference for most, while some might lean toward the bold sound of Hiwatt or the gnarly snarl of Orange. Either way, there are many specific characteristics of design and components that help to define these classics, and to make them resolutely British in our imagination, and at our fingertips.
There were plenty more creative and inspiring amps where these came from, however, and a broad range of British alternatives from the late '50s to early '70s are worth investigating—and plugging into for some sonic change-ups that still drip with luscious and archetypally English aural delights. Let's take a spin round some of the also-rans, and consider what they still have to offer.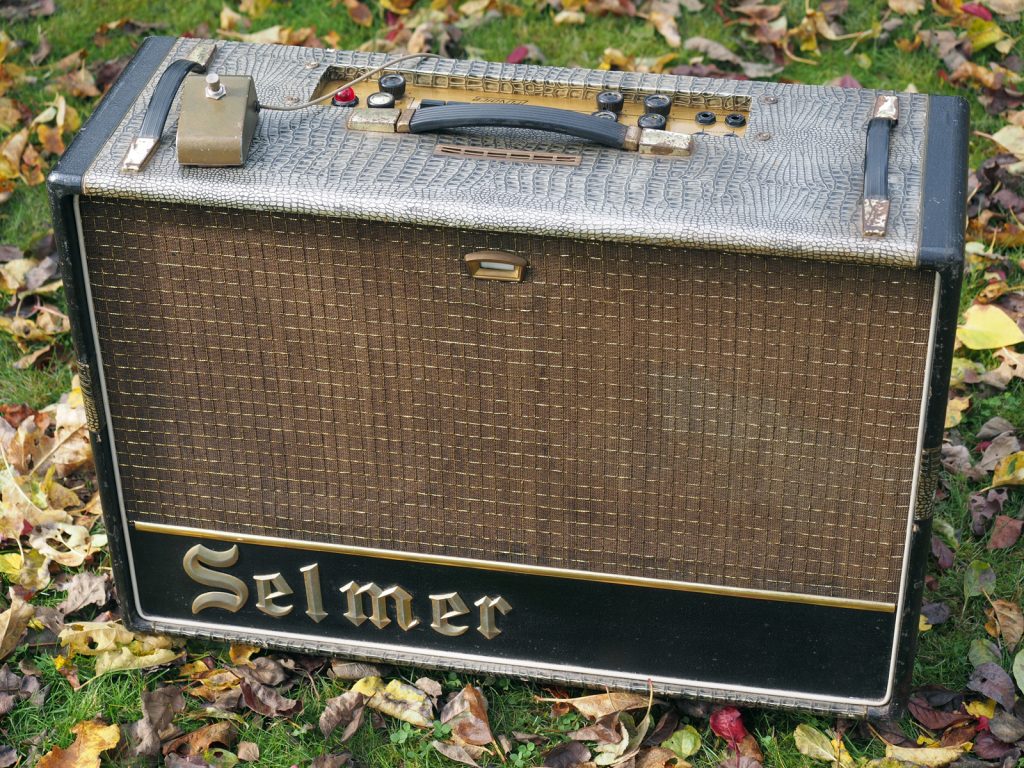 SELMER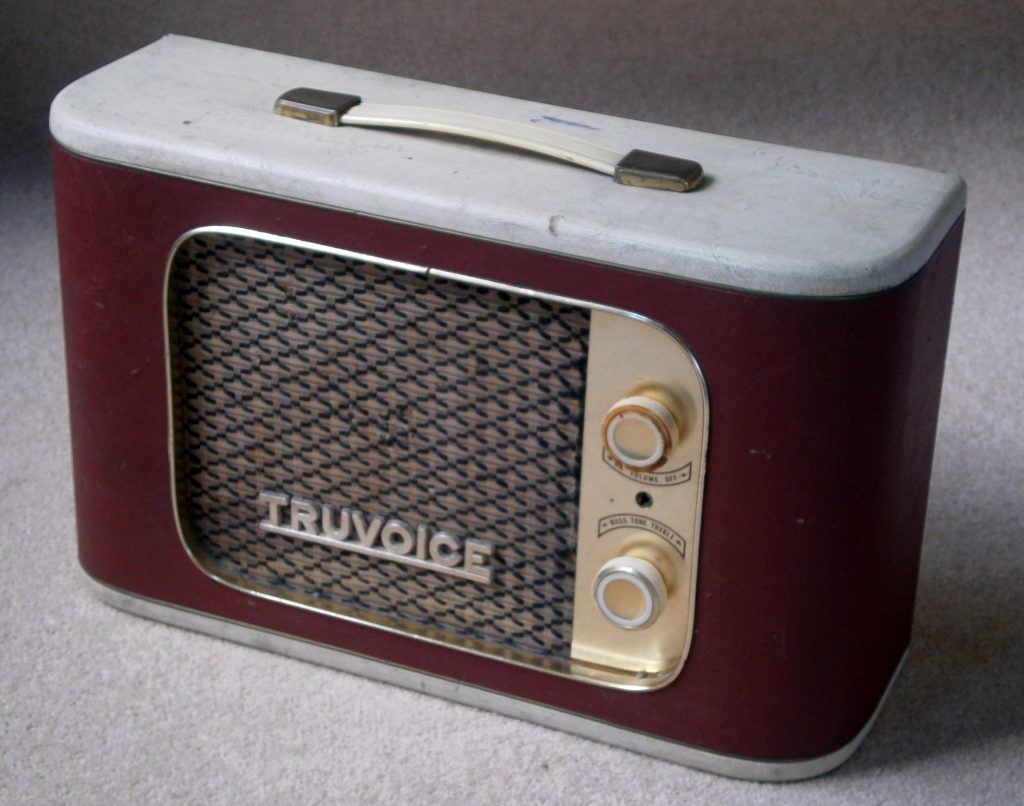 From the stylish maroon-and-grey and blood-and-custard two-tone models of the late '50s and early '60s to the iconic mock-crocodile amps of the mid '60s, Selmer guitar amps have always displayed hip and appealing esthetics, and often packed compelling tones to match. The first big name in British-made guitar amplifiers, and virtually a monopoly in the early days of the industry, Selmer was born out of the London-based wing of the French musical instrument company founded by Henri Selmer in the late 19th century.
At a couple different locations on Charing Cross Road in the heart of London's bustling West End—long a Mecca for the British music scene—Selmer first imported American-made amps in the late 1930s and '40s. After purchasing the manufacturer RSA and its Truvoice brand in 1947, Selmer began producing its own amplifiers, increasing the pace considerably through the '50s and into the '60s as the pre-rock 'n' roll skiffle boom in mid-'50s Britain ramped up the demand. These initially retained the "RSA Truvoice" brand (in the name of brand recognition, perhaps), but both the brand and the circuits inside would evolve as musical styles changed.
The 1957 lineup included four models, the TV6, TV12, TV18 and TV20, at a time when Vox amps were barely a glimmer in Tom Jennings' eye. At 18 watts through a single 12″ speaker the TV18 combo was as powerful as any guitar amp made in the UK at the time (and more powerful than most), while the 14-watt TV20 combo added tremolo and came in a quirky 4×8″ cab.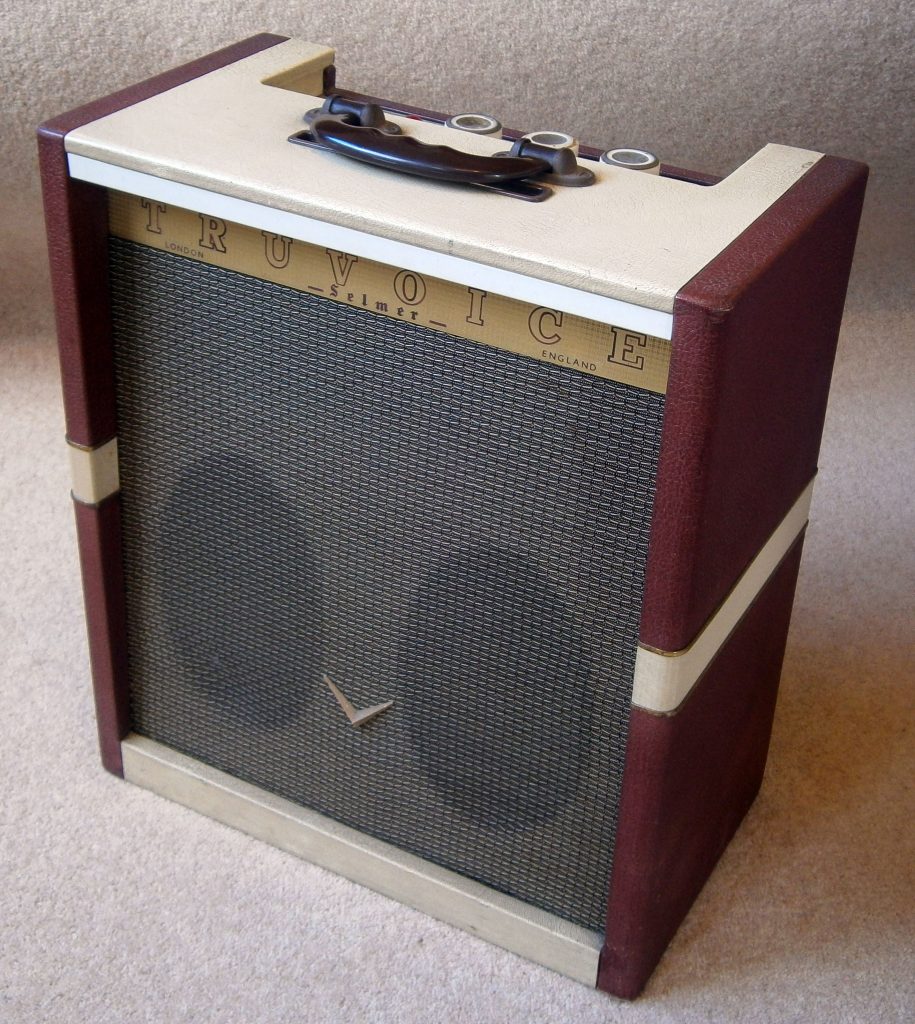 In 1959, as the rival Vox A.C.15 was evolving, Selmer entirely revamped the lineup. Housed in eye-catching red-and-cream cabinets (affectionately dubbed "blood and custard" by some collectors), these amps now carried the parent company's name more prominently under the Truvoice badge, dispensing with the RSA brand altogether. At the top of the new heap was the Selector-Tone Automatic, which produced 25 watts RMS from a pair of EL34 output tubes into a single 15″ speaker, with an arguably gimmicky push-button tone section that helped to give it its name. By this time, Selmer had already been using the beefy sounding EF86 pentode preamp tube in this and other models, even before Dick Denney had adopted that valve for his redesign of the A.C.15.
As appealingly retro as these and the blueish-grey two-tone models that followed them might remain today, some of the most desirable Selmer models followed in the form of the faux-croc-skin-covered amps of 1963-65, which have become more and more desirable on today's vintage market. Among these, the Zodiac Twin 30 and Zodiac Twin 50 belted out 30 watts and 50 watts respectively through stout 2×12″ cabinets, complete with magic-eye indicators that pulsed in time with the hypnotic tremolo. By this time Vox was putting a major dent in Selmer's business, and Marshall was roaring forward to become the big boy in the rock world. Yet The Beatles, The Shadows and The Animals—among many others—all did their thing through Selmers at one point, and even Jack White of the White Stripes would discover the glories of the Zodiac Twin 30 when recording the Elephant album many years later.
Selmer's styling slipped somewhat in the late '60s and into the '70s, and the amps are less desirable as a result, though they can still be great performers. All in all, the larger Selmers of the '60s are characterized by a thick, warm voice that can become appealingly aggressive when cranked up, and which definitely provides a Brit-toned alternative to the norm.
WATKINS/WEM
A genuine trailblazer and a fixture on the scene for several decades, Charlie Watkins has never quite been recognized as a first-tier creator in the field of British guitar amplification. That likely has something to do with the occasional diversions that took his progress off course, while also partly owing to the perceived quality of many of those amps, which most players will confirm can sound plenty good—and occasionally great—but which were generally more on par with the "catalog-grade" amps produced in the USA at the time. For all that, though, there are plenty of noteworthy and desirable amps bearing the Watkins and WEM names from the late '50s to the late '70s.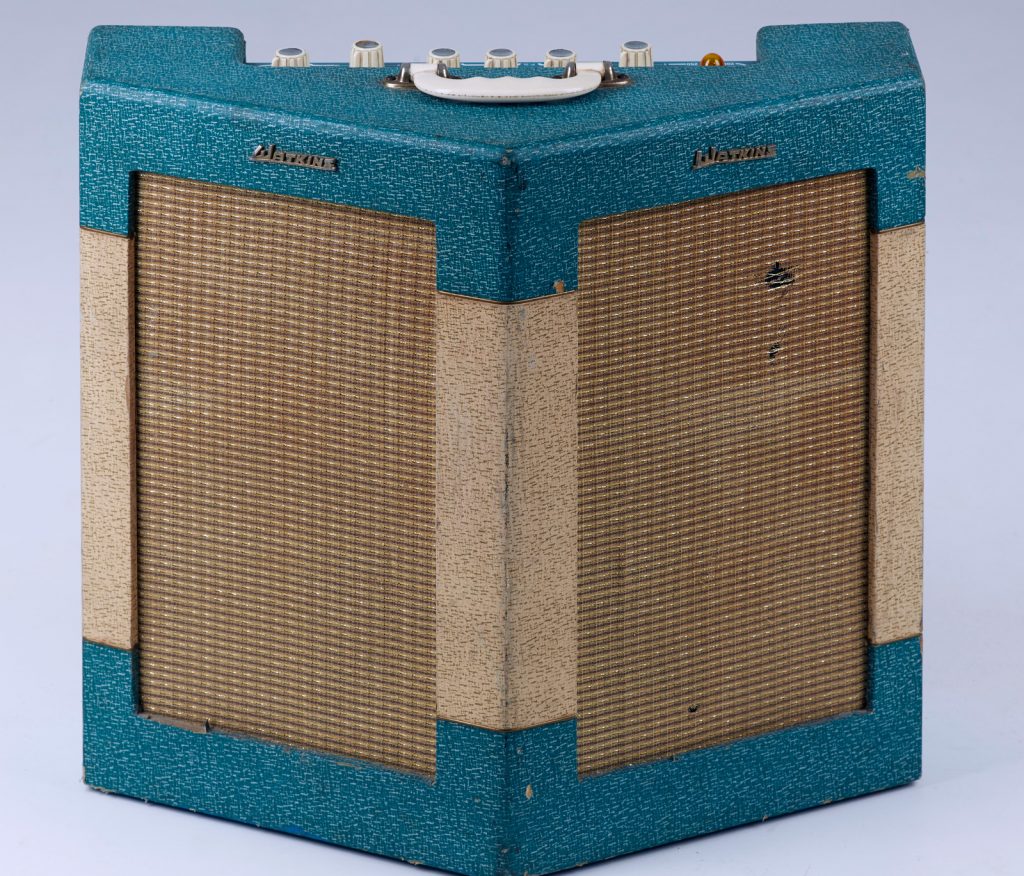 After returning from military service in World War II and working for a time as a professional accordionist, Charlie Watkins opened a record store in southeast London with his brother and quickly became a go-to resource for musicians in that part of the city. Through this storefront location in Balham he eventually began marketing guitar amplifiers under his own name, several years before the legendary Tom Jennings hit the scene (either under his surname or as Vox/JMI), and a full decade before Jim Marshall and company cobbled together their first JTM45. Although Watkins had already been offering handy smaller guitar combos for a few years when the ultra-cool Dominator model arrived in the late '50s, it was the company's first real product of note. Housed in a stylish V-fronted 2×10″ cabinet, it delivered 17 watts from a pair of EL84 output tubes. Even if it never landed on the stages of many professional players of the day it cut a dashing figure on those of plenty of young guitarists and would-be artists. The Dominator model would remain central to the lineup for the next two decades, although after the early '60s it would be housed in a traditional rectangular box, usually with a single 12″ or 15″ speaker.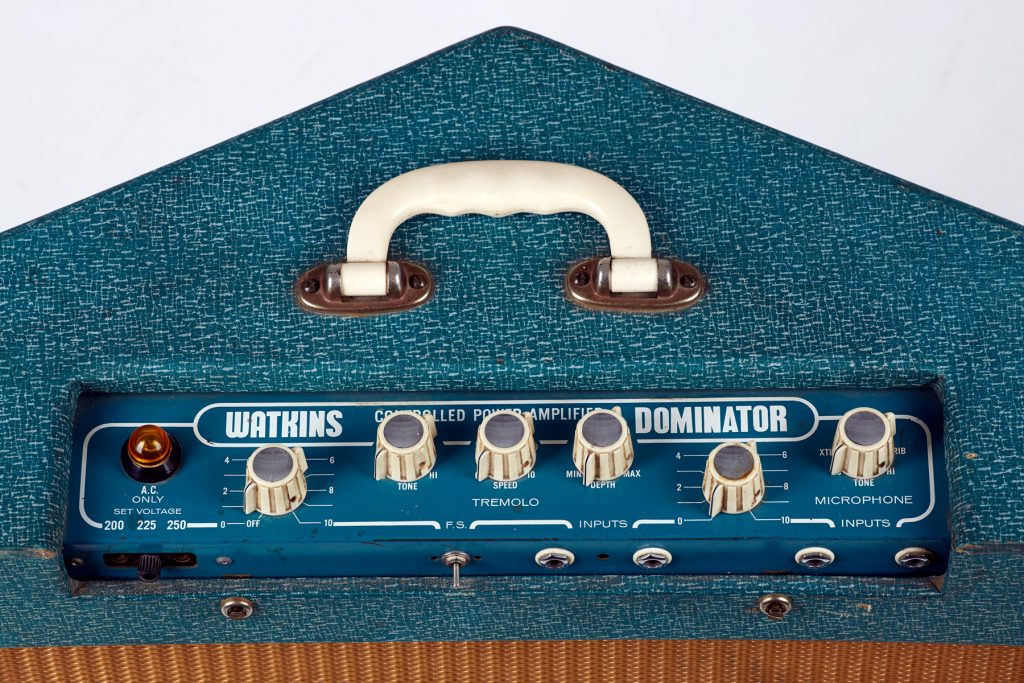 In late 1963 or early '64, inspired by the look and popularity of the "VOX" logo, Charlie condensed the main brand on his products to WEM, for Watkins Electric Music. In 1964 WEM released its first 30-watt amps, the Control ER30 and Control HR30, each deriving their output from four EL84s and built in a head format with separate 2×12″ speaker cabinet. These also marked the move to printed circuit board (PCB) construction, which for many collectors demarcates a general decline in quality, although the amps after this period nevertheless remained quite robust and can often sound superb. Meanwhile, like Vox and Jim Marshall's young company, WEM might have been moving on to even more powerful tube amps, but for the conviction—not uncommon in the field—that this technology would soon be discarded for the perceived benefits of solid-state transistors. (Ironically, WEM's biggest hit on the arena stages of that era were the 4×12″ Starfinder speaker cabinets designed to accompany the larger solid-state amps, and used by David Gilmour of Pink Floyd beneath his 100-watt tube Hiwatt heads.)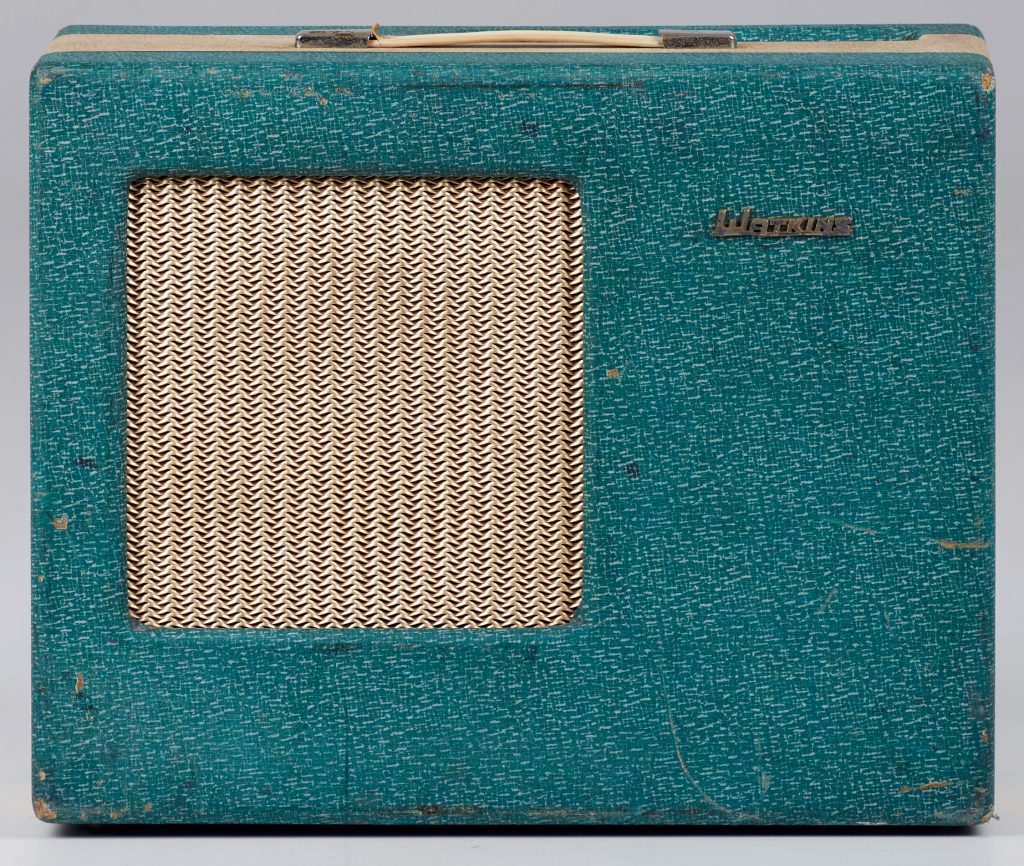 Watkins's two biggest successes weren't guitar amps as such, but gear to be used alongside them. The first of these was the Watkins Copicat tape echo, developed with the help of engineer Bill Purkis in late 1958 or early '59. It quickly became the British tape echo, selling about 1,000 units a month in the first few years of production. The second, a few years later, came in the form of the more powerful P.A. rigs Watkins began building with the help of Purkis's solid-state designs. Even if his guitar amps were barely on the map for major artists, his P.A. systems were some of the biggest of the day, blasting out the music of bands like Cream, The Who, Small Faces, Jeff Beck, Jimi Hendrix, Fleetwood Mac, and dozens of others at major festivals in Windsor, Hyde Park, and the Isle of Wight.
Charlie Watkins toyed with retirement on several occasions, calling it quits briefly in 1974 before being pulled back into the game, and again in the early '80s. Nevertheless he continued inventing and farming out manufacture of products, and even signed off on reissues of the original V-front Dominator in the early 2000s and again around 2010, before passing away in his home in Balham in 2014 at the age of 91.
SOUND CITY
The English scene of the mid '60s threw up a number of makers eager to compete with Marshall, which was fast earning a reputation as the leader in powerful rock stacks. One noteworthy entrant was Sound City, named after a chain of "City" themed London music stores run by the Dallas-Arbiter group. The Sound City outlet itself was a guitar-and-amp shop on Soho's Rupert Street, just a few blocks west of the Jennings and Selmer shops (and others) on Charing Cross Road—and frequented not only by The Beatles, but later by Eric Clapton, Jimi Hendrix, and countless others—and this is where partner Ivor Arbiter decided, like others before him, to start his own amplifier business. To do so, however, he needed a designer and manufacturer.
Arbiter selected Hylight Electronics, which was founded and run by another storied name in British amplification, a young engineer called Dave Reeves who had recently apprenticed at Marconi Electronics and Mullard. Reeves, of course, would move on to establish his own Hiwatt amplifier brand in the late '60s, which would be an even more significant brand in British amp history than Sound City. Although Dallas-Arbiter might have been looking for amps to rival Marshall's ascendance, what they got from Reeves (and what Reeves himself would produce afterward, under the Hiwatt name) were the furthest things from mere copies. Their outward appearance and control layout might have seemed Marshall-inspired, but Reeves had set out to build a better mousetrap back in the early '60s, before there was even much awareness of Marshall, and his amps displayed originality and a drive for optimum quality and performance at every turn.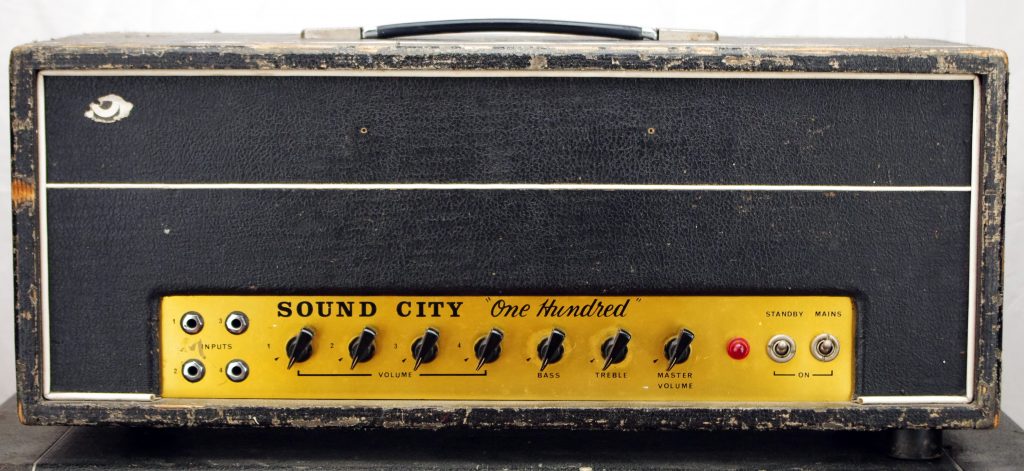 The first few amps sold by Sound City carried a simple Arbiter branding on the front control plates, but after these they bore badges with the shop's own distinctive name. According to research by Mike Huss (as expounded on Hiwatt.org), in 1967 Reeves received a payment of approximately £800 to produce a batch of Sound City amps for Dallas-Arbiter, which he wired up in the garage of his newly purchased home in Malden, Surrey, on the southwestern edge of the London suburbs. These first amps produced 100 watts from a quartet of EL34s and were known as the "One Hundred", L100, or Lead 105 in its Reeves-modified format (also later referred to as the Mk1).
Reeves ceased supplying Sound City amps in 1968 and moved on to producing his own Hiwatt models, continuing with very similar 50- and 100-watt designs. Dallas-Arbiter carried on producing Sound City amps for themselves, initially following the circuits that Reeves had established but costing out the assembly and componentry to hit strict production budgets. If Sound City amps post-Reeves were made relatively cheaply, however—compared to the amps of other leading makers at least—that doesn't mean they were made poorly. They used excellent Partridge transformers and many other components of the day which were still good-quality parts, even when they were off-the-shelf, and were generally put together by a dedicated team, which included Dennis Cornell (later a notable boutique maker) in the post-Reeves days. Sound City amps soldiered on into the early '80s, and if they never quite had the number of big-name endorsements that Marshall, Vox, and Hiwatt accrued, they were prominently seen in the backlines of late-'60s Pete Townshend and Jimi Hendrix (the cabs, at least, beneath his Marshall heads), and on tour with The Rolling Stones.
LANEY
While our other three makers were all London based, the final name in this roundup of unsung British guitar amps comes from a couple hours north of the Big Smoke, although this maker was chasing much the same big-stack performance as Sound City. Like many who got into the business in the early days, Lyndon Laney was initially a musician himself, playing in bands in and around his native West Midlands. The most notable of these was the Band of Joy with Robert Plant and John Bonham, both later of Led Zeppelin. Lacking the funds to purchase a suitable amp, Laney built his own, and soon had other local musicians coming to him for the same. He satisfied this initial word-of-mouth market by piecing together amps in his father's garden shed, until demand overwhelmed his ability to supply under those conditions. Laney officially launched his company in 1967, at which time he took up a proper factory premises in Digbeth, Birmingham.

Laney has often been associated with the heavy metal scene that grew up around Birmingham at the turn of the decade. Its heavy rock street cred was bolstered early on by the sale of a P.A. system to Robert Plant in 1968, which went with his new band Led Zeppelin to the USA on tour soon after. Laney's best-known customer, however, is Tony Iommi of Black Sabbath, who has used the company's amps since 1970 and the release of the band's massively popular metal opus Paranoid. Indeed, Iommi's sound is definitive of that of the big Laney models: thunderously loud, monstrously thumping, evocative of the crunch of doom of metal when cranked up high.
Outwardly, Laney followed the popular Marshall template, but the company always had its design quirks. The meat of the early lineup comprised powerful 100-watters, although smaller amps were always in the lineup, and eventually much larger models too. The company's popular Supergroup range, which the Sabbath riffster stepped up to when available, ran all the way to the massive Supergroup 200, with six EL34s. For many years, Laney amps were seen as a more affordable alternative to some of the more mainstream brands, but were widely considered ferocious performers nonetheless. The company is still going (following a cease of operations in 1980, and an eventual return with a revamped lineup), operating out of a premises not far from the original, in Halesowen, West Midlands, under the directorship of Lyndon's son, James.
There are several other also-rans among the great golden-age British tube amps, and maybe we'll get a chance to explore some of those in a coming post. Even so, Selmer, Watkins/WEM, Sound City, and Laney are arguably the most powerful contenders just a step behind the big names that continue to define "the British sound" today, and all are worth checking out—if and when you can find them.
Selmer amps and photos courtesy of Rob Sawyer.
Watkins amps and photos courtesy of Marcel Cavallé.
Sound City amp and photo courtesy of Steven Fryette, Sound City Amplification.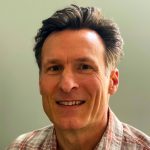 Dave Hunter is the author of The Guitar Amp Handbook, British Amp Invasion, The Gibson Les Paul, Fender 75 Years, and several other books, and is a regular contributor to Guitar Player, Vintage Guitar, and The Guitar Magazine (UK).
---
Related posts
---
Leave a Reply
You must be logged in to post a comment.
---
By submitting your details you are giving Yamaha Guitar Group informed consent to send you a video series on the Line 6 HX Stomp. We will only send you relevant information. We will never sell your information to any third parties. You can, of course, unsubscribe at any time. View our full privacy policy