Allan Holdsworth's Baby – The Story of the Yamaha UD-Stomp Delay Pedal
by Barry Cleveland
Allan Holdsworth (1946-2017) was a true iconoclast. Although his singular musical aesthetic and hyper-prodigious technical facility were often nearly incomprehensible to his fellow guitarists, they captured the imaginations of luminaries such as Tony Williams, Bill Bruford, and Jean-Luc Ponty, with whom he played, as well as Soft Machine, Gong, U.K., Level 42, and other bands of which he was a member. Holdsworth also released more than a dozen solo albums, some featuring his deft synthesizer work and mastery of the SynthAxe controller.
This story is excerpted from Stompbox: 100 Pedals of the World's Greatest Guitarists, a new book featuring photographs by creator Eilon Paz and interviews and articles from a bevy of noted journalists including the book's editors Dan Epstein and James Rotondi. It is one of 14 stories I contributed to the book.—BC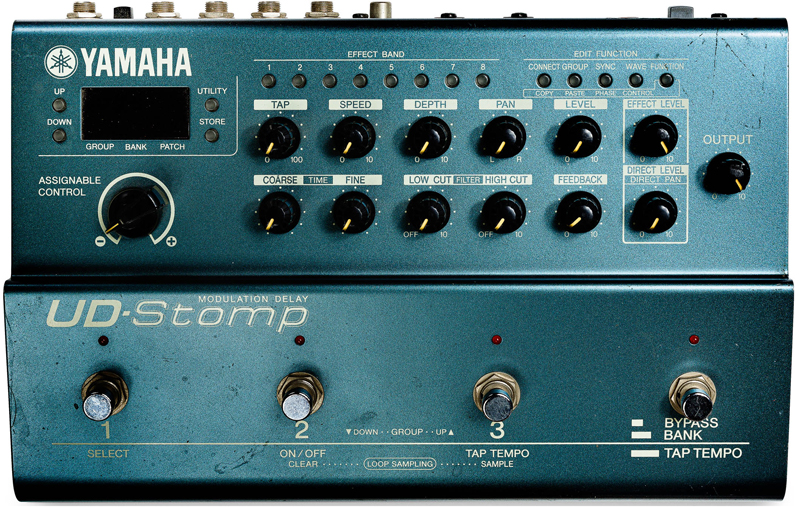 The late, great Allan Holdsworth wasn't one to use a wide array of effects, but two that were essential to his unique sound were digital delay and modulated delay. Most significantly, he created his signature ultra-chorused clean tones by blending the sound of up to eight digital delay processors in complex configurations.
"I've always used multiple delay units to get one sound," he explained. "For example, at one point I had two Yamaha D1500s, two Roland SDE-3000s, two Lexicon PCM-42s, and two DeltaLab Effectrons. Delay processors from different manufacturers all had their own sounds, and I liked to blend those different sounds together to get what I felt was the best tone. I'd have some on the right side and some on the left side of a stereo signal, and two stereo signal chains for my solo and rhythm tones.
"Later, I had four Yamaha D1500s, and eventually I got down to a pair of Rocktron Intellifex processors that each had lots of delay lines in them. Doing things that way gave me a huge amount of control over both the delay times and the stereo imaging, but I eventually came to realize that I was using a ridiculous amount of gear to create sounds that most people couldn't even hear, so I went to Yamaha to see if it might be possible to put a rack full of delays into a small box."
Yamaha's Ryuichiro "Rick" Kuroki had introduced Holdsworth to the Yamaha DG-1000 guitar preamp that the guitarist used live and on several recordings, and a few years later Kuroki consulted Holdsworth when creating chorus effects for the AG-Stomp pedal—a floor-standing digital processor for acoustic guitars fitted with piezo pickup systems—so it wasn't surprising that Holdsworth reached out to Kuroki for help in creating what would become the UD-Stomp programmable delay pedal.
"UD-Stomp was developed from Allan's idea," says Kuroki. "His request was for a super delay machine with eight delay lines—four short delays with modulation, and four long delays with modulation and feedback—that all had independent feedback and panning parameters. I made a prototype that included all of his ideas in one box, along with some of my own ideas to make it even more special, and he was really impressed. That was the beginning of UD-Stomp."
Holdsworth also programmed the UD-Stomp's first twenty-seven presets: a dozen flavors of Chorus, nine variations on Stereo Enhanced Lead Solo, three types of Vintage Echo, two Volume Pedal Swell FX options, and a patch with the intriguing name of Single Source Point Stereo Microphone + Echos [sic], the latter of which featured two short (but slightly different) delays panned right and left, with one of them phase-reversed. Holdsworth, who referred to the UD-Stomp as his "dream box" at the time of its release, employed the unit as a cornerstone of his live rig for several years. Alas, it did not remain in production for long.
"When the UD-Stomp was discontinued it was kind of unfortunate for me," recalled Holdsworth, who by 2008 had switched to using six Yamaha Magicstomps for his live performances. "It had made it possible for me to replace all the individual delay units I'd been using with a couple of small pedals that I'd throw into a suitcase and be off!"
Yamaha UD-Stomp Modulation Delay
Introduced in 2002, the official product description of the Yamaha UD-Stomp Modulation Delay read, "This incredible guitar effects processor is like having 8 of the world's finest rack mount delay units in one rugged design," and it was literally true. Each delay offered independent control of multiple parameters (e.g., Pan, modulation Speed and Depth, High Cut and Low Cut filters, and Tap tempo) and the signal-routing possibilities were nearly unlimited. There was even a S/PDIF digital output and built-in headphone monitoring. The pedal, which remains highly sought-after by fans of Allan Holdsworth, was discontinued in 2004.
Photos: Eilon Paz.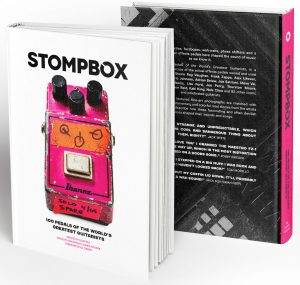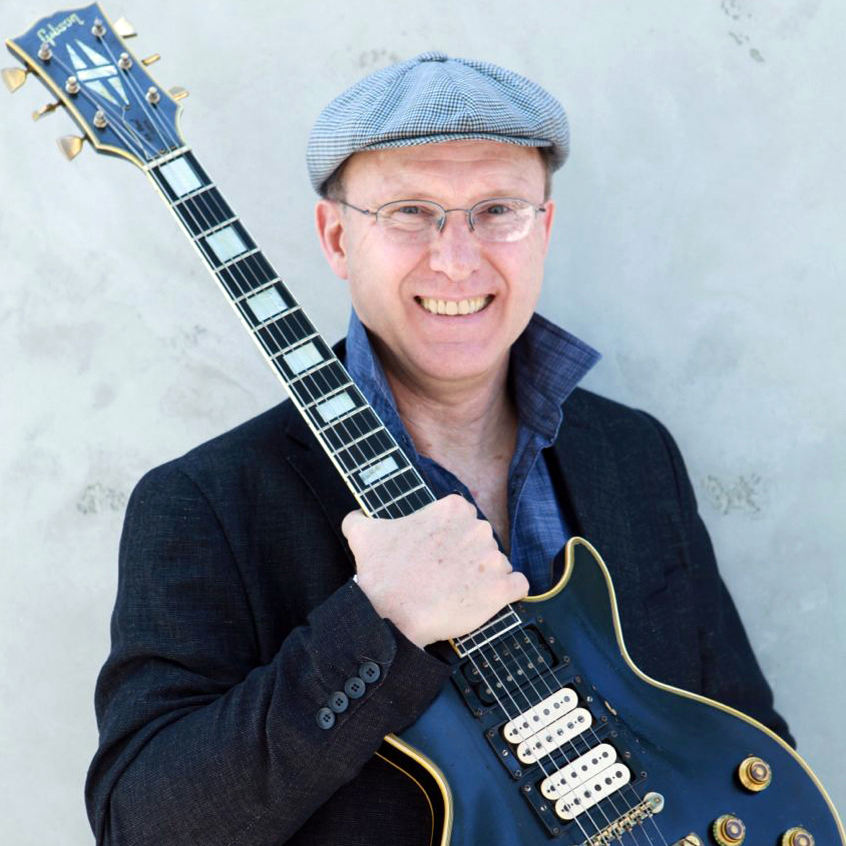 Barry Cleveland is a Los Angeles-based guitarist, recordist, composer, music journalist, and editor-in-chief of Model Citizens and The Lodge, as well as the author of Joe Meek's Bold Techniques and a contributing author to Stompbox: 100 Pedals of the World's Greatest Guitarists. Barry also served as an editor at Guitar Player magazine for 12 years and is currently the Marketing Communications Manager at Yamaha Guitar Group. barrycleveland.com
---
Related posts
---
Leave a Reply
You must be logged in to post a comment.
---
By submitting your details you are giving Yamaha Guitar Group informed consent to send you a video series on the Line 6 HX Stomp. We will only send you relevant information. We will never sell your information to any third parties. You can, of course, unsubscribe at any time. View our full privacy policy